The skills developed as an armed forces reservist can be of value to retailers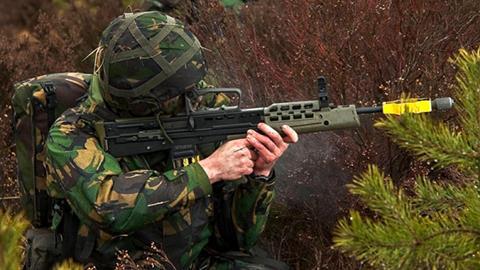 For most retail employees one job is enough, but for members of the Volunteer Reserve Forces (VRF) their retail day job is only part of their life. Being a reservist helps them develop skills and disciplines that are as useful in-store as on the battlefield.
The challenge for retailers and employees alike is how to combine the day job with the reservist role and the likely call to duty that will come at some point.
Supporting Britain's Reservists and Employers (SaBRE) is a Ministry of Defence campaign that aims to build employer support for members of the VRF by explaining to employers the benefits, rights and obligations associated with having a reservist on staff.
SaBRE campaign director Tim Corry says the retail sector has particularly good practises. "Most of the big retailers have supportive reservist policies as part of their HR strategies," he says.
Chris Byrne is a private soldier in the Territorial Army and combines that role with his position as fresh stock control manager at Tesco's Fraserburgh store in Scotland.
In January he returned from a 13-month tour in Afghanistan.
He says his time away has helped him become more disciplined. "Team working is a lot stronger in the army and organisation is key and that is something you take back," he says.
His boss, non-food trading manager Carol Massie, says he has changed. "It has matured him as a person and manager, and made him more focused and organised," she says.
Reservists are expected to undergo an evening of training a week and about 30 full days of training a year - including a two-week block of intensive training. Tesco provides 10 days additional unpaid leave to cover this.
Although roles do need to be filled while reservists are absent Massie believes there is an advantage. "It gives us the chance to develop other members of staff," she says.
Michael Potts is a garden centre customer adviser in B&Q's Hermiston Gait store in Edinburgh and also returned to work in January after a six-month stint in Cyprus in his role as senior air crew within the Royal Auxiliary Air Force. "I'm more confident at work, have more self esteem and work more closely as a team player now," he says.
B&Q HR manager Marie Lloyd has also seen changes. "He is more confident in front of other members of the team and customers. It also brings more diversity to the workforce," she concludes.
Reservist facts
Both reservist and employer can request a deferment or exemption from mobilisation
Employers are not obliged to pay reservists while they are mobilised but do receive costs of up to £110 a day
Reservists will be mobilised for between six and 10 months and have the right to return to their original role
Reservists must provide the MOD with details of their employer VRF consists of the Royal Naval Reserve, Royal Marines Reserve, Territorial Army and Royal Auxiliary Air Force