The new boss of Canadian yogawear specialist Lululemon stretched his legs on a trip to London for the opening of the retailer's first UK store.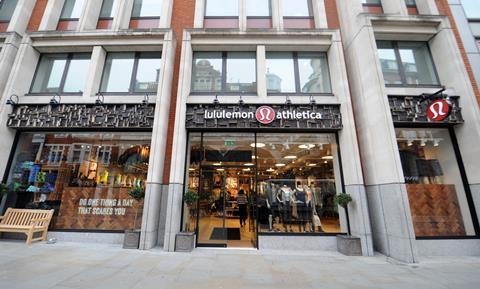 Lululemon chief executive Laurent Potdevin spent an uncomfortable first few hours in London. Fortunately it had nothing to do with the success of the yoga specialist's first UK store opening in Covent Garden, but the advanced class he was forced to take part in at its launch late last month.
"I do it twice a week at home but I got roped into doing a class that is well above my skillset. It was a fantastic class, but I'll go back to where I belong," he jokes.
Potdevin, who has only been at the helm of the Canadian retailer for two months, describes his role as a "dream job". However, he takes over at a turbulent time for the brand.
In March last year, Lululemon was forced to recall its famous Luon yoga pants after it was discovered they appeared see-through when worn.
The product accounted for 17% of all women's bottoms in the retailer's stores and the well-documented recall is understood to have cost Lululemon more than $20m (£12m). Potdevin's predecessor Christine Day stood down in the wake of the scandal.
Potdevin says Lululemon is "moving forward" from the fiasco. But will the crisis leave any long-lasting damage for the retailer, which charges a premium price for its technical products?
Potdevin says: "We push innovation and, when you lead, sometimes you have a setback. We continue to innovate and bring incredible product to life."
He believes Lululemon customers respected the way it handled the matter. "We pulled it very quickly, with very clear communication," he says.
However, Lululemon founder Chip Wilson seemed to make matters worse in November when he appeared to blame larger ladies for the sheerness of the pants. He told Bloomberg TV: "Frankly, some women's bodies just don't actually work."
Wilson resigned from his role as chairman in the furore that ensued. It was not the first time he had caused controversy. He previously said he chose to name his brand Lululemon because the 'L' sound is not in the Japanese language. "It's funny to watch them try to say it," he said in a 2004 profile in the National Post business magazine.
Potdevin is undaunted at the prospect of working with Wilson, who retains a seat on the board of Lululemon. "I've worked with founders for the past 20 years. I've mastered the art of dealing with them," he says.
Swiss-born Potdevin has a CV that seems perfectly suited to Lululemon. After a childhood spent in what sounds like an idyllic place to practice yoga - "I was brought up on a mountain by a lake," he says - he started his career at luxury powerhouse LVMH. This gave him an insight into upmarket customers, and was followed by a five-year stint as chief executive of snowboard and technical sportswear specialist Burton.
Most recently, Potdevin was chief executive of footwear phenomenon Toms, which he helped build into a global brand. Globalisation is a big opportunity for Lululemon, which is already widely known among yoga lovers. Celebrity fans such as Kim Kardashian and Cameron Diaz have helped it gain recognition.
Potdevin says the Covent Garden store will act as a "springboard" for expansion across Europe and the rest of the world. "[London] is such a trendsetting environment - if you don't have apresence in London, you don't really have a presence in Europe," he says.
Potdevin is confident that Lululemon will succeed in the UK, and he has grounds for confidence. Already the brand is worn by 25% of people at London's yoga classes after Lululemon made efforts to build a 'community' in the capital during the past two years.
It has unveiled four showrooms across London where customers can purchase products and take advantage of free yoga classes. "To build global brands you need deep local knowledge to really understand the market. It's about building a deep cultural knowledge, getting the brand to adapt to this market and making sure it's relevant," he says.
"As soon as we've got all the pieces of the puzzle, we can crank up the tempo and look at more locations." Potdevin had better get limbering up because more store openings can only mean more advanced yoga classes.