The Etail Power List of this year's most influential retailers in ecommerce has been announced – here is Retail Week's ultimate etailer.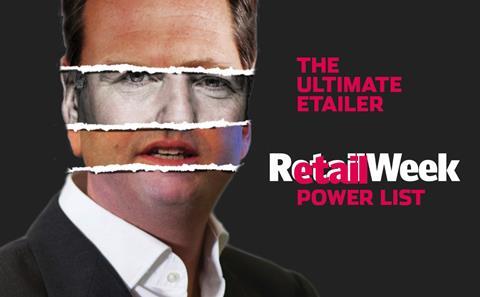 Mind: John Walden
Walden is a strategic thinker who has reinvented the Argos business in his short time in charge. He has overhauled Argos' traditional model and transformed it into a digitally led business whose stores, the future of which many viewed as under threat, are now seen as assets. His tie-up with eBay transforms the stores into pick-up points and adds another revenue stream to its business. His strategy has clearly impressed as he was awarded the chief executive post at Argos' owner Home Retail Group this year.
Eyes: Nick Robertson
Asos is undoubtedly an etail pioneer and Robertson's vision for the etailer has helped mould it into the phenomenon it is today. Many would have thought Robertson was mad setting up Asos in the wake of the dot com bubble bursting in 2000 but he believed online would be where the next generation of shoppers flocked and choice is what they would covet. His vision has become a reality and Asos has gained early-mover advantage in online fashion
Nose: Tim Steiner
Ocado boss Steiner can sniff out a good opportunity. Be it partnering with Waitrose to sell its wares in the early days or its ground-breaking tie-up with Morrison which paves the way to it becoming an IP provider, he has a nose for a good deal.
Ears: Andy Harding
House of Fraser's multichannel boss Harding believes the key to success is listening to your customers and giving them what they want. They don't want to stay at home waiting for parcels – he brought them guaranteed morning and evening delivery; they love click-and-collect – he brought them a click-and-collect store. His motto is "If customers demand it, we will build it", and that has resulted in customers flocking to House of Fraser's website.
Mouth: John Roberts
Ao.com boss Roberts has the gift of the gab. He has managed to motivate both his staff into creating a company that has truly put service at the heart of its business and that has been a key part of its success. He has also managed to convince investors to back Ao.com to the tune of £1.2bn. Now that's a smooth talker.
Etail Power List 2014
Find out if these etailers make the Etail Power List on Friday by visiting www.retail-week.com/etail50