The Etail Power List of this year's most influential retailers in ecommerce has been announced – here are some etailers to watch in the coming year.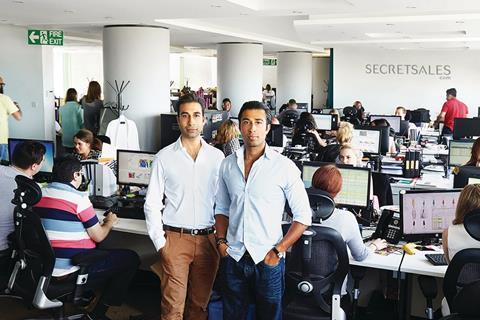 Nish and Sach Kukadia
Co-founders, Secret Sales
Suave brothers Nish and Sach Kukadia set up flash Sales site Secret Sales in 2007, and it is now gaining real traction.
Secret's sales are growing rapidly; up 68% to £18.2m in 2013 and surging another 40% in the year to September.
It gained an additional £4.5m in funding from Partech Ventures and existing shareholders Pentech and Doughty Hanson this year to further propel growth.
The business is still operating at a loss right now, but this should change in the final quarter of the year.
Secret Sales was last year chosen to join Tech City's Future Fifty programme, a selection of 50 high-growth companies that gain access to government and private sector expertise to help them expand.
The etailer is among good company; other members of the programme include recently floated firms Ao.com, Just Eat and Zoopla.
Hiroshi Mikitani
Co-founder and chief executive, Rakuten
As the boss of Japan's biggest etailer, Hiroshi Mikitani is a name it's advisable to know. Rakuten has become one of the world's biggest etail companies, and barely a week seems to pass without an announcement of another acquisition – its most recent, in September, was US rebate site Ebates.
It's easy to write off Rakuten. The company's UK arm hasn't exactly set the market alight; its UK site Play.com has not been a match for rivals Amazon or eBay. However, as of next year, Play.com will be no more as Rakuten moves all its marketplaces onto one global platform and launches Rakuten.co.uk.
As one of the world's biggest marketplaces, Rakuten has size on its side, and it is not afraid of innovating, too. It's determined to make its mark and is clearly not the type of company to be underestimated.
John Goold
Joint chief executive, Zeus Capital
In the year in which the etail IPO has been prevalent, it would be remiss not to include a broker in our Etail Power List.
Zeus has emerged as a bit of an online specialist and joint chief John Goold, who previously founded Arden Partners, led on both Boohoo.com and MySale's listings this year.
He helped Boohoo, which at the time was making a little under £100m, achieve a £560m float; while MySale, with sales of almost £125m this year, he helped list with a £340m valuation.
Such sums will have led more online firms to contemplate going public, and if the IPO market hots up again, Goold and his Zeus team are in good shape to prosper.
Sally Heath
Head of ecommerce, New Look
Sally Heath is a relative newcomer to ecommerce, having spent most of her 15-year career in buying.
She had her first experience of online at New Look two years ago when she became head of multichannel and trend, before heading up ecommerce last December.
Heath oversees day-to-day trading, online design, content, photography and social channels, and digital marketing for New Look.
Heath has embraced ecommerce, and the lightning pace and innovation that online brings. Forthright and opinionated, she no doubt brings new ideas to the table.
Online has been New Look's star performer of late, and sales through its website soared 42.3% in the year to March 29 and 39.2% in the first quarter.
The retailer recently launched sites in Germany, France and Poland.
Gracia Amico
Chief executive, PetsPyjamas
Gracia Amico took the helm at PetsPyjamas earlier this year after leaving her job as ecommerce director at fashion retailer Hobbs.
Amico is highly regarded after heading up ecommerce at both Burberry and Topman, but in her first chief executive role she plans to really make her mark.
And PetsPyjamas offers a big opportunity. It's an innovative business that not only sells pet products, but also offers a pet concierge service, enabling owners to book pet-friendly holidays via the site. Pet owners can also interact on the site's own 'social petwork' and can find services such as pet groomers and sitters in their area.
Amico is determined to take a slice of the £58bn global pet market and plans to launch websites in Germany and North America.
Sir Philip Green
Owner, Arcadia Group
He's a retail legend and famous for his deal-making – and now Sir Philip Green is turning his attention and billions to online.
In May, he acquired a 25% stake in MySale ahead of its launch on AIM. Green has already used the site to sell his wares in Australia, with BHS, Burton and Topshop sales launched.
The billionaire is keen to use online to expand his brands round the world. This year he teamed up with large online marketplaces in China, India and Europe.
He's using his boundless contacts and resources to ensure his stake in MySale grows, and has helped the etailer develop relationships with brands on a global scale.
It wouldn't be a surprise if Green, always eager for a good deal, begins to invest in other ecommerce businesses.
Rohan Blacker
Co-founder, Sofa.com
By now Rohan Blacker should be a lawyer. But that was before his natural impulsiveness got the better of him and he gave in to his flair for entrepreneurialism.
That talent led him to team up with Pat Reeves and start Deliverance, a high-end fast food delivery business, in 1997. Seven years later, it was sold to private equity firm Active for £5.5m.
It was not long before the pair were in business again, however, and they set up Sofa.com in 2006. The online furniture retailer notched up sales of £20.2m in its last financial year, jumping 20% year on year. The positive trajectory has led the retailer to pursue a sale and a process is under way.
Former Wiggle CEO Humphrey Cobbold is understood to be one of the interested parties working alongside Close Brothers, while private equity firm Graphite is also bidding.
Sadly Reeves passed away in January aged 46 after his long battle with cancer.