The Etail Power List of this year's most influential retailers in ecommerce has been announced – here are some etailers to watch in the coming year.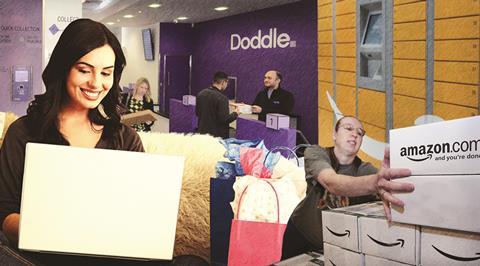 Kate Mooney
Founder and chief executive, Occa-Home
A background in architectural design has helped form the foundations for Occa-Home, the designer homewares etailer that Kate Mooney built from scratch.
Mooney learnt the nitty-gritty of buying and selling from growing up around her parents' furnishings showroom in the 1980s and 1990s.
When Mooney set up the company in 2003, it had no marketing budget for the first 18 months, so she and the design team taught themselves the principles of SEO, PPC and email marketing.
Last year former Tesco boss Sir Terry Leahy and Asos backer William Currie Group invested in Occa-Home.
The retailer has recorded impressive growth and its website attracts around 200,000 visitors each month, a quarter of which are returning shoppers.
Lord Alli and Robert Bready
Executive chairman / creative and retail director, Koovs.com
This former Asos pair – Lord Alli was chairman, Robert Bready was product director – started Indian fashion site Koovs.com in 2012 after deciding to emulate Asos's European success in India – and Koovs has been on a roll since.
Indian shoppers were clearly ready for an Asos-style venture, and the etailer has already had enormous success having been well received by consumers.
In March, it floated on the AIM in London, raising £22m from investors attracted by its growth prospects. The site has also convinced a raft of UK brands, such as Oasis and Lipsy, to sell their clothes on its site, and it has developed its own brand, too. The pair are also attracting plenty of UK talent and, last year, swiped French Connection finance director Roy Naismith.
The site bears more than a passing resemblance to Asos, but this won't be the only reason its boss Nick Robertson will be watching Koovs closely – the pair are canny operators and it can't be long before they cast their net outside India.
Jamie and Carl Jackson
Executive vice-chairman / chief executive, MySale
The British-born Jackson brothers set up flash Sales site MySale in 2007 in Sydney, and it has become a major player across Australasia.
The brothers, who listed the business on AIM in London this year, are determined to make waves in the UK as well after its debut here in July.
It's off to an "encouraging" start and Jamie Jackson told Retail Week it will become "very dominant" in the UK because of its aggressive stance on pricing and sheer level of sales it holds.
MySale, which posted sales growth up 23.3% and profit up 10% to AUS$60.4m (£33.4m) in the year to June 30, already has some notable fans. Arcadia Group's Sir Philip Green (see page 38) took a 25% stake in the site ahead of its float; while Sports Direct's Mike Ashley took 4.8% – and both are hoping the site can help them expand Down Under.
With such shrewd backers on board, you wouldn't bet against the Jackson brothers achieving UK dominance.
Nicole Vanderbilt
Vice-president of international, Etsy
Vanderbilt was promoted from UK country manager to vice-president of international in December last year as the online marketplace for arts and crafts expands.
Vanderbilt resigned her position as MyDeco chief executive in order to take up the country manager job and has overseen Etsy steadily growing its profile in the UK.
In the summer, the company launched its first TV ad in the UK and Vanderbilt said the brand felt ready to broadcast its message to a "much, much wider audience" after considerable growth.
Adam Black
Chairman, Secret Linen Store and founder, Button & Sprung
Adam Black has moved seamlessly from being boss of bricks-and-clicks beds retailer Feather & Black to an investor and launcher of disruptive ecommerce businesses.
He has helped launch two businesses in the past 12 months, bed linen etailer Secret Linen Store and beds and mattresses business Button & Sprung. Both source direct from suppliers, enabling a cheaper price for the customer, and focus on quality customer experience.
Black has drawn big-name investors to his way of thinking, including ex-Asos director Jon Kamaluddin. With a contact book brimming with the great and good of retail, the likeable and persuasive Black will have little trouble bringing high-profile investors on board for any further etail exploits
Jon Wragg
Director of ecommerce, Supergroup
Wragg is a former multichannel boss of Asda, which he helped build to become one of UK retail's leading lights in digital and omnichannel innovation.
Wragg was viewed as pivotal in developing Asda's multichannel business and helped steer its approach to technology, and he's moved to another market where the online opportunity is just as big.
As ecommerce director at Superdry owner Supergroup, a move he made earlier this year, Wragg will be making the most of his impressive knowledge at the fashion retailer. SuperGroup's online sales are growing quickly but it says there is plenty more to come, so the sky is the limit for Wragg as he develops his career.
The international market will undoubtedly be one of Wragg's key priorities. The retailer already operates 18 websites, including in the US and China, and will want to capitalise on Superdry's pull with young shoppers round the world.
Anthony Fletcher
Chief executive, Graze.com
Fletcher is spearheading the company's ambitious global expansion plan. Last December, the etailer – in which US-based private equity firm The Carlyle Group bought a majority stake in 2012 – invested $5m (£3.05m) in a US launch, which included setting up a distribution centre in New Jersey.
Early signs suggested the large US market is a good one for health food. The launch came after a beta test in 2013, when an email was sent to 100 US contacts. Fletcher says that within 24 hours it had customers in 48 states, and in two weeks it had amassed 20,000.