Some of UK retail's biggest names began their career on the shop floor – but is ascending the retail ranks still possible today?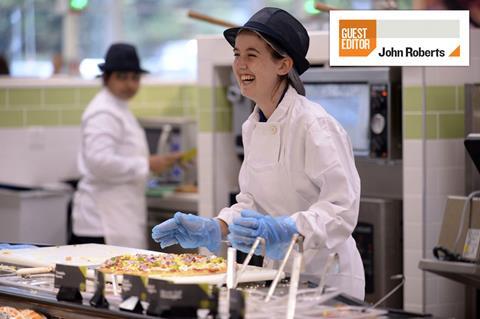 Marks & Spencer boss Steve Rowe, Morrisons chief executive David Potts and Mothercare's Mark Newton-Jones are just a few of the industry's lifers who started on the first rung of the retail ladder in store and climbed their way to the top.
However, if these titans of UK retail were embarking on their careers today, would they reach the same lofty heights?
Morrisons and N Brown chairman Andy Higginson, whose modest background did not stop him from rising through the ranks to hold a top post at Tesco at the height of its powers, believes that retail remains fundamentally a meritocratic industry.
He worries however that more could be done to ensure opportunity and social mobility.
Decline of social mobility
Higginson adds: "I think social mobility has probably declined in my lifetime. Could I have had my career in the same way – grammar school boy, poly and a graduate training scheme?
"We should strive to be a place that people admire and aspire to be part of."
One of the foremost examples of social mobility in retail is shoe and watch Timpson's ex-offender employment programme.
As Timpson Foundation Ambassador, Darren Burns is in charge of hiring ex-prisoners, and other participants from marginalised groups, to the scheme – a role he combines with being head of recruitment for the retailer.
Burns is himself an ex-offender and epitomises how retailers can enable people to progress in their companies.
Starting by working in a Timpson branch while on release on a temporary licence, he joined the retailer after leaving prison for good. "It was one of the best things that ever happened to me," he recalls.
Build on talent
First Burns learned the skills of the trade such as watch repair, then became a branch manager before taking on his central role which means he oversees recruitment, liaising with regional teams and ensuring best practice is followed.
His story makes concrete the opportunity in retail to build on talent and ensure progression for those with the right qualities. "The important thing to bear in mind is not to differentiate between people," says Burns.
Heartwarming as his story may be, the success of such an approach can be seen in Timpson's commercial success. As Burns is at pains to point out, "we're not a charity".
The scheme is also representative of a wider determination at the business to foster talent from within and create opportunities for career progression.
Timpson sales director Perry Watkins and HR director Guoy Hamilton-Fisher both worked their way up from the bottom.
Developing skills
Retail has a long history of employing young talent and 20% of all current apprenticeships are in the retail and commercial industry, according to the Department for Business, Innovation and Skills and Cebr's report The Benefits of Apprenticeships to Businesses.
In fact, many retailers are widening their apprenticeship schemes.
Tesco expanded its programme last month, launching two new schemes – a Level Two retail apprenticeship in store and a Level Two LGV driver roles within distribution.
The grocer says more new apprenticeships will follow for office staff. Across the entire Tesco business, 2,500 apprenticeship opportunities will be offered in 2017.
"We're extending our apprenticeship programme to give colleagues more choice to develop and reach their potential"

Natasha Adams, Tesco
Upon revealing the new schemes, Tesco people director Natasha Adams said: "We're extending our apprenticeship programme to give colleagues more choice to develop and reach their potential, as we seek to grow skills that will help Tesco serve shoppers better into the future."
Meanwhile, online goliath Amazon has launched an apprenticeship programme this year with positions available in engineering, logistics and warehouse roles.
Graduate tech talent
Alongside apprenticeships, retailers are also focused on bringing graduate talent into their businesses, particularly those with expertise in IT and technology, so vital in today's multichannel age.
The Hut Group, Shop Direct and Kingfisher are just a few retailers that offer graduate schemes focused on these areas.
Marks & Spencer head of talent Simmone Haywood says: "The most obvious area where we are offering more career progression than before is in digital, be it through cyber security, big data or data analytics."
"Through reverse mentoring – we're trying to develop relationships with more senior, experienced people in the organisation and more junior people with skills in newer technologies"

Simmone Haywood, Marks & Spencer
"One way we are doing that is through reverse mentoring – we're trying to develop relationships with more senior, experienced people in the organisation and more junior people with skills in newer technologies or functions.
"It's about developing a personal relationship that is mutually beneficial but based on the sometimes completely different experiences the two individuals will have working here."
However, it's not just about promoting and developing those with sought-after digital skills, it is important that every member of staff from head office and stores, to customers services and warehouses, have a clear career progression plan.
Providing a clear path
Pets at Home runs a plethora of career progression programmes, including the Learn to Earn model, which increases store staff's pay for educating themselves about the business, and the Warehouse to Wheels initiative, which trains distribution staff as delivery drivers.
The pets specialist's retail chief executive Peter Pritchard says: "We want people who like the company to stay and find their own route through within it to fulfil their ambition.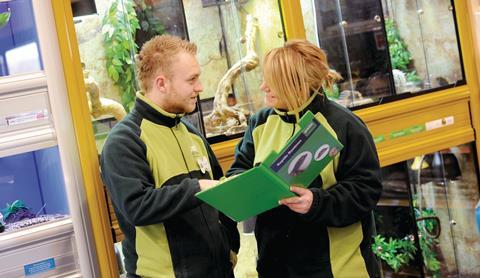 "Pay and benefits tend to be more of a hygiene factor – what makes people leave an organisation often is a lack of opportunity to fulfil their own development, so we try to create as many as we can."
Pets at Home's robust employment training strategy has paid dividends.
"We fuel the development needs of our own people first and as a priority"

Peter Pritchard, Pets at Home
More than 80% of the retailer's store managers have come through its staff development programmes, while 70% of area managers have been promoted from store manager roles and 100% of its regional directors.
"We have a long-term track record of recruiting and developing our own people because our culture and product area is so special, so it's very rare that we recruit retail positions from outside," says Pritchard.
"We fuel the development needs of our own people first and as a priority."
Lean operations or opportunities?
For retailers looking down the barrel of the apprenticeship levy, Brexit, business rates and national living wage hikes, justifying the cost of staff training programmes could become a harder sell.
Oxford Summer School's managing director Dominic Prendergast says: "What is paramount is the pressure on businesses with regards to return on investment.
"The challenge for these retailers which have a very clear strategy for youth, whether that's through training schemes or internal support, is that as a board director you're happy to invest provided that person has a great career with [your company]."
"What makes people leave an organisation often is a lack of opportunity to fulfil their own development, so we try to create as many as we can"

Peter Pritchard, Pets at Home
However, Pritchard believes this thinking will hurt retailers in the long term.
"I do worry that retail has gone backwards – I've worked for a number of big names in my career and all of them had really good development programmes," he says.
"One of the things we've seen happen over the last five to 10 years is that lots of middle management and store positions have been absolutely obliterated in the drive for cost control, which creates a massive void between a colleague on a shop floor and a store management position.
"I think when you take those decisions they are always really short-term, rather than long-term health for the business."
John Lewis has unveiled a raft of restructures in its employment structure in recent months under the banner of "fewer, better jobs", and many more retailers are grappling with the same challenges and are cutting jobs across their own businesses.
Against this background, the challenge for retailers lies in ensuring they do not lose sight of their up-and-coming talent, and that said talent is still offered a clear path up the retail ranks.
Does retail have an image problem?
Oxford Summer School director Neil Moss believes that retailers need to do a better job of promoting the appeal of the sector as a place to build a career.
"One thing retail has never cracked is the perception of our sector in comparison with others," he says.
"Whether it's reality or not if people think they'll get better career progression, better benefits, better opportunities and more flexibility from other sectors, they may be influenced to go there.
"The inherent competitiveness of retail means we don't work well collectively to say that this is one of the best sectors in the economy in which to work.
"We are bloody good at retailing in the UK and we've got highly prestigious and capable companies who do offer great careers, but do we shout about is as a sector? I don't think we do."
Mark & Spencer's talent director Simmone Haywood says the department store retailer is grappling with the changing attitude to work across its younger recruits.
"The most obvious difference is speed - people want to move through their training at a faster rate and are hungrier for immediate feedback," she says.
Haywood also says that employees now also expect broader career paths, rather than a linear approach to advancement.
Higginson also highlights that there is desire for flexibility from younger staff, which becomes a basic requirement for employees later down this line.
"The issue is less for women and more for mums – that's when people often find it difficult to juggle," he says.
"It's very long hours in retail, a store manager might be working from six in the morning until eight at night, maybe six days a week, and that does exclude a lot of people. There might be ways to redesign work."
The need for flexible working conditions is a growing trend that retailers are starting to respond to.
Dixons Carphone, B&Q and Tesco were amongst a group of retailers that have signed up for a 12-month pilot aiming to promote career progression for part-time workers. The scheme was expanded after a successful trial at Pets at Home.