The drums of war are beating in Bentonville. That was the City view as grocery shares were marked down after Asda parent Walmart's AGM last week.
Fears that Asda is preparing to fully unmuzzle its price guns and bombard rivals were stoked following comments made by parent Walmart's international boss Dave Cheesewright.
Shares in Asda's rivals Morrisons, Sainsbury's and Tesco all fell as Cheesewright signalled that, after focusing on profit protection at Walmart's insistence, market share would now be a priority at Asda.
Despite investors leaving grocery shares in the remainder bin, an all-out price war looks unlikely. Keen pricing is established across the big grocers.
While some further cuts might be expected from Asda, restoring the giant's fortunes will demand more than that, as various City analysts have observed.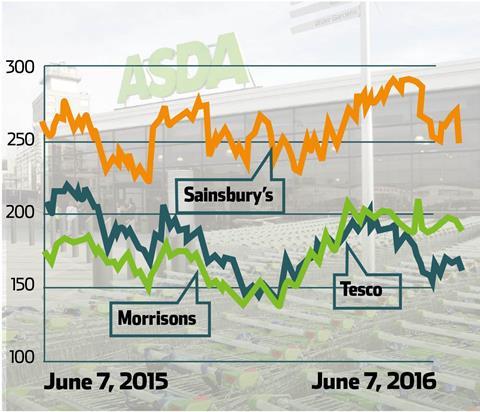 Shore Capital's Clive Black said: "Asda's competitive challenge is not all about price, far from it in fact; remember that across a basket it is already in a reasonable price position versus its superstore peers, less so against the limited assortment discounters.
"Rather, Asda's grocery range is uninspiring, relatively sterile, functional and bland. Its peers, perhaps bar Aldi, have superior premium ranges, fresh food propositions and, where applicable, fresh food counters.
"These are harsh words, but they are also true in many local markets in our view, reflected in our store visits. Indeed, in a search for margin over product quality, we also question the qualitative effectiveness of Asda's supply chain and particularly what [Asda's produce supply business] IPL is delivering in terms of shelf-edge experience."
Bernstein's Bruno Monteyne also noted that improving in-store standards and upping the game on the quality of own-label food must be high on Asda's priority list. Walmart, in fact, has undertaken similar initiatives at its US business.
Monteyne said: "Although Walmart never suffered such negative like-for-likes as Asda, it still slowed in growth and for many of the same reasons (stronger competition, discounters, inflation dropping)…
"Walmart then beat expectations in the US and said it was happy with performance; this was put down to a 'real improvement in store experience…customer satisfaction scores have continued to strengthen and our in-stock has gotten better'."
Cheesewright did not expect Asda's fortunes to be turned around overnight. Instead, he said that it will "take some time", a view that seems to indicate there can be no quick fix based simply on lower prices.
While Asda may be determined not to stand still, nor are its competitors.
Morrisons and Tesco have been showing signs of progress, while Sainsbury's aims to pull off a transformational takeover of Argos.
Asda cannot be underestimated but neither can the other big grocers. Perhaps the recent sell-off was overdone.