M&S interim results reveal growth in both ecommerce and food, but general merchandise sees its fifth year of like-for-like decline.
Marks & Spencer boss Marc Bolland is reported to have told the board of the iconic retailer that it is his intention to stay in post for at least another two years. Although this week's interim results show M&S is still underperforming its key rivals in general merchandise, there was enough good news to bolster the suave Dutchman's position.
General merchandise like-for-likes fell 1.2%. However, the retailer's food arm continues to outperform the overall market and like-for-likes were up 0.2%. Underlying profits rose 6.1% to £284m.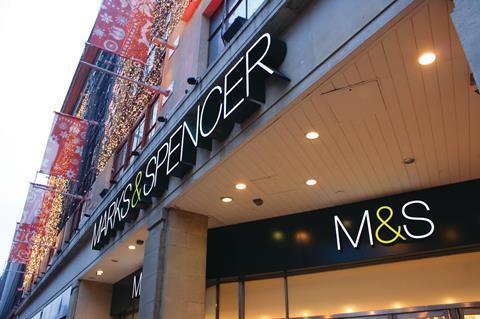 The story is a familiar one in general merchandise and it is disappointing that some early signs of a change in fortunes in clothing seen at the beginning of the year have proven frustratingly difficult to build on.
For all the talk of improving quality since style guru Belinda Earl joined the business, general merchandise sales are now in their fifth year of like-for-like decline.
But while this latest set of figures hasn't dissipated ongoing concerns that Bolland and his team can do little to stem the declines in womenswear – and this week's figures are against some soft comparatives last year – the ongoing improvements in margins should be enough to convince investors that this leadership team is getting other key areas of the strategy right.
Margin strategy
Margin improvement has been a focus and gross margin guidance has been revised up on the back of improved sourcing, stronger discipline on full-price sales and fewer markdowns.
"Businesses such as WHSmith have made an art form of improving profits while top-line numbers decline"

Chris Brook-Carter
Meanwhile, investments in infrastructure not only appear controlled but are paying dividends with the revamped ecommerce business growing 34%, helping to offset the declining like for likes in stores.
Businesses such as WHSmith have made an art form of improving profits while top-line numbers decline and some commentators wondered this week whether M&S was also becoming a margin story.
One suspects that narrative will do for now, particularly in the headwinds high street fashion retailers face. But M&S is not another WHSmith and Bolland will ultimately be desperate that his legacy at M&S is a return to sustained sales growth, too.
Amazon gets physical
It would be nice to think that the opening of a first physical book shop by Amazon in Seattle was timed to coincide with Retail Week's week-long celebration of the store, with our Interiors Conference, Awards and the launch of Top of the Shops – a top 30 countdown of the greatest stores in British retail. One suspects it was, however, just a serendipitous reminder of how integral physical retailing remains. The narrative that binds these events together is the reassessment of the role of the store and how it remains relevant to shoppers but also the extraordinary levels of innovation and experience that shops still provide their customers.