Retailers including Topshop, Iceland and Bathstore will introduce mobile payments from Visa after the firm ramped up the reach of its digital wallet.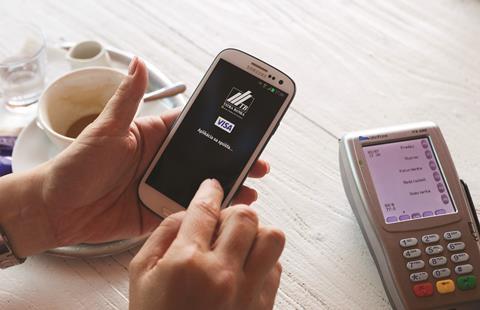 Visa has struck a deal with a number of banks that opens up its V.me mobile wallet to 55% of the card company's 130 million cards and 60 million card holders.
Consumers can access the V.me service online from any device and the digital wallet allows users to store multiple payments cards on the device and removes the need "to enter sensitive card details in public".
The service was initially launched by Visa with Nationwide Building Society, but by striking agreements with other banks V.me will now be available to the majority of consumers who shop online in the UK by the end of the year.
Other large retailers to sign up to the service include Topshop sister brands Dorothy Perkins, Burton, Wallis and Miss Selfridge, while thousands of small retailers have committed to the service.
V.me by Visa executive director Wendy Martin said: "The uptake of the service by retailers and banks across the country will further enable frictionless commerce, making online shopping – particularly checking out – easier, quicker and safer for the consumer, reducing the abandonment rate for merchants."
"This is all about reducing shopping cart abandonment which is particularly much higher on a mobile device, so this is about increasing the number of transactions that go through and is all about your bottom line," she added, saying Visa is experiencing a peak in transactions in the evening on the commute home.
"People are shopping out of hours, but the current experience of typing in 16 digits and an expiry date over and over again is really cumbersome. V.me is about taking the hassle-factor out and making that online experience as frictionless as possible in the online space as it is in the face-to-face space."