Discount retailer Instore, which trades as Poundstretcher, has launched a transactional website selling items from 99p up to £150.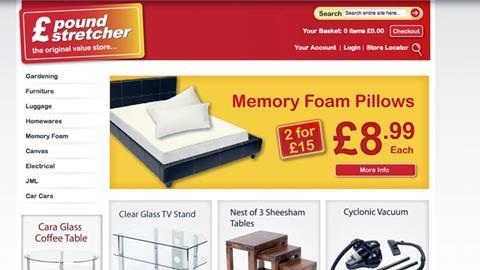 The 320-store retailer is selling 150 lines, including furniture, luggage and electrical goods on the site - www.poundstretcher.co.uk. There is no minimum order price.
Value retailers have traditionally found the transactional model difficult because of their low price points and frequent range changes. Most notably, Wilkinson does have a transactional site, but rivals 99p Stores, Poundland, B&M Bargains and Home Bargains do not have transactional sites.
Poundstretcher managing director Mike Morrison said that, with customers "increasingly purchasing online", Poundstretcher needed to offer its products online.
Poundstretcher marketing executive Alex Crowe said he was "very confident" online will be a strong channel for the retailer.
Crowe said: "We have identified the web as a key opportunity that the discount sector has not utilised fully. We are trying to make the format work. It's an exploratory time for us."
He added that Poundstretcher would be increasing the number of lines offered online over the coming weeks. Orders are fulfilled from the retailer's main warehouse and delivered to the customer's address for a fee.
Poundstretcher is also on the hunt for more shops, with plans to open between 10 and 20 stores of 8,000 sq ft to 12,000 sq ft on retail parks.
Crowe said: "Discount retail is doing well. General retail is suffering but we are holding our own."
Instore, which delisted from the Stock Exchange last year, narrowed pre-tax losses from £7m to £3.7m in the 26 weeks to August 29, 2009, the last figures available.