It has pioneered the online greetings card market and now its competitors are playing catch-up. Lisa Berwin talks to Moonpig founder Nick Jenkins about the secret of the etailer's rapid growth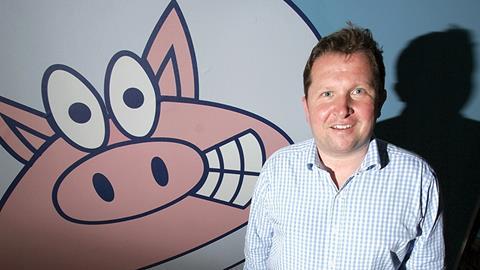 If imitation is the sincerest form of flattery then online card retailer Moonpig should be feeling quite smug. In the past few months Marks & Spencer and Clinton Cards have both announced their version of the Moonpig offer, and new entrant personalised card retailer Whamoosh has just waded in to try and eat its lunch.
Moonpig is by comparison a veteran of the £25m online card market, set up 10 years ago by Nick Jenkins, who saw early that greetings cards was an area that could be very much improved upon online.
"If you send a CD from an online shop it is no different from what you buy in a shop," says Jenkins. "We are not just passing products on but making them ourselves."
Moonpig cards are all made in its printing facility in Guernsey. Customers order from a wide variety of cards for all occasions and are able to personalise them, adding their own names, photos and straplines that are pertinent to the recipient.
"I had just come back to the UK after working in Russia and wanted to start a business here making money out of the online space," recalls Jenkins. "I looked at selling online advertising but that was very hard back then."
Card sharp
Jenkins looked at many options for an online business before starting Moonpig but quickly realised that selling something with low margins and a high value would be hard if growth was to be quick. "Personalisation was the key and this business idea meant there was very little stock involved," he says, adding that it could charge more than the average high street shop for products with its personalised unique selling point.
Even so, setting up Moonpig did not bring instant gratification, and it took five years before the business was profitable. But at the end of April this year pre-tax profits had more than doubled to £6.7m on sales of £20.9m.
The slow struggle towards profitability and the 2.5 million customers it enjoys today was something that Jenkins believed was worth the wait for. He dismisses the view held by some that setting up online is invariably an easy ride.
"It takes time to build up clientele, particularly online as you have no footfall. Starting an online shop is like having a shop down a back alley with no frontage and no doorbell," he says. "You have got to take customers by the hand and lead them there."
He adds: "I always wanted Moonpig to be a viral product. Every year sales increased about 40% a year. It was purely word of mouth at first and we did not do much advertising."
Jingle all the way
When Moonpig did finally go into TV advertising a jingle was created for the retailer that was extremely catchy and is now widely recognised. Jenkins often has adults and children sing the theme from the ads back at him at parties.
About 60% of the UK population now recognise the brand, but this Jenkins assures is down to more than just a catchy tune. "Critical to our success is that it is a product that people like, and like to share. The TV ad would not have worked if it had not been backed up by a product worth talking about."
Another key driver to the success of Moonpig has been its customer service. Moonpig has its own customer service team in its London Bridge head office all trained to talk to customers in a way that, according to Jenkins, "reflects our brand".
"It is far harder to retain a customer than get a customer. A challenge for a business like ours is that our product may cost £2.99 but if it is wrong or does not turn up, the impact is much greater than just £2.99."
He says if you order a can of beans online and it turns up slightly dented or not at all, it is nowhere near as big a problem as if it's a birthday card for a loved one.
The emotional side of what he does is very much understood by Jenkins - which is why customer service has to be impeccable and the business has to go as far as it can to deliver.
Illustrating one example Jenkins remembers a large card that had been ordered for a headmaster's retirement. "They were going to present it in the school hall and for some reason it could not get there on time. We sent it on a motor bike and paid for it to be delivered that way. The card was only £5.99 but the impact of that card was important."
Jenkins describes the Royal Mail industrial dispute as "very irritating", but he remains pragmatic. "It will result in a small sales decline but it will also affect people who buy cards from shops too." Moonpig has been advising customers to send their cards early or by special delivery so they can be tracked.
Despite the strike dampening online sales prospects, Moonpig is still a shining example of how online retail can enhance a product category. High street greeting card retailers have had a tougher time of it of late - with Clinton Cards putting Birthdays into administration leading to the closure of 152 stores.
Jenkins points out he is just a small part, just 1%, of a huge market and as such knows there is plenty of room to grow. He also is still a big fan of the high street but don't expect Moonpig shops to be popping up any time soon. "If I was selling cheese I would want a shop," he jokes.
"I went into Waterstone's the other day to look for a book and could not find it and Amazon had 20 or 30 on the same subject. On the other hand I love browsing in bookshops and often buy what I never intended to. These are things the high street can do that online cannot."
Knowing the customer
The data collection element of having an online business is one that Jenkins says cannot be underestimated and is a great tool to help keep moving your business forward. "Our data tells us where we need to make more effort to improve. We put a lot of time and effort into that. Frequently online we are changing a button here and there to make things clearer."
Jenkins gives one example regarding its email reminder service for friends and families. This had always been on its site but no one really used it. As a test, the email reminder service was added to the site's order process and its usage went from 2% of customers to 50% overnight.
"Sending customers these reminders mean they will come back next year."
Moonpig also monitors what people write about it, but Jenkins does not like the idea of setting up its own social networking element. "I just don't like the idea of intruding into people's social space," he says. "I may be proved wrong, but you have to be sensitive as to how you go about it."
For now he is more than happy for customers to pass on good feedback to each other and increase its customer base through good service. Issues such
as Royal Mail and new competitors snapping at its heels, after 10 years of growth, are not going to faze this determined and affable entrepreneur. He has complete faith in his business and what it offers consumers.
"By accident or design we have stumbled upon something people really like, and that is the core of retailing," Jenkins concludes.
Cards on the table
The greetings card market is worth £1.5bn annually in the UK
The online greetings card market is worth £25m
Moonpig has sales of £20.9m
The company sold 6 million cards last year
Moonpig was founder Nick Jenkin's nickname at school
The company was set up with £160,000 in 1999
It took five years and six rounds of fundraising from private investors for Moonpig to reach profitability, with Jenkins injecting more of his own cash at each round to encourage the other investors