Beauty etailer Feelunique.com is to launch a loyalty scheme this month and a subscription service later this year as it seeks to drive growth.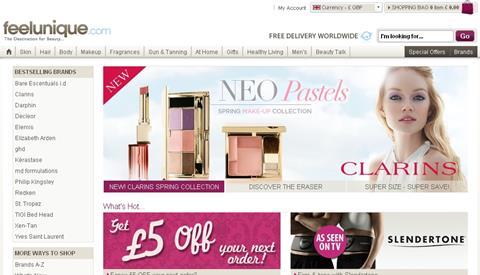 Feelunique, which had sales of £16.1m, up from £11m, and EBITDA up from £600,000 to £985,000 to the end of March 2011, wants to up customer retention with the loyalty scheme and subscriptions.
"A huge percentage of our sales is from returning customers," said chief executive Aaron Chatterley.
The subscription service will launch in August. For a fixed fee - probably £6.95 - customers will receive a beauty box every month with targeted samples.
The etailer, which is based in Jersey, is gunning for sales to rise about 25% over the next year.
Chatterley said sales could have grown more aggressively over the last year but did not want to heavily discount. "Beauty brands frown upon constant promotion," he said.
Feelunique also switched to deal direct with all its brands instead of via a wholesale route. "We have a more resilient supply chain and never have stock issues," he said.
Chatterley said the etailer "continues to get approached by people wanting to invest" but insisted "we're not looking to get out". He added: "We are, however, ambitious so if there is an investor that can bring something that we don't have then we will consider it."