An innovative start up is launching a try-before-you-buy service for online clothes shopping that allows customers to order from multiple retailers at once and try items on in a luxury customer lounge.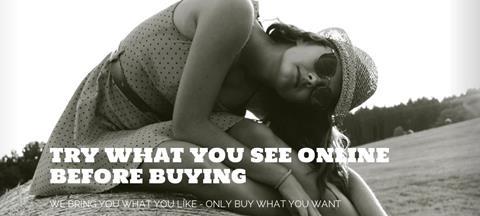 Wilderooms, set to launch in September, will pay for the goods chosen by customers and have them delivered to its premium dressing rooms, likely to be located in leading shopping centres, where shoppers can try on clothes before deciding whether or not to purchase.
Wilderooms chief executive Kevin Dhami claimed the initiative will tackle some of online fashion retailer's biggest headaches by increasing online conversion rates and reducing returns.
The development represents a new step in fulfilment and will provide consumers with a convenient place to try on online purchases without paying up front, waiting in all day for home delivery or worrying about returns.
Backed by property firm Cushman & Wakefield's investment vehicle Pi Labs, Wilderooms is in talks with major shopping centre owners including Westfield and British Land about the venture.
Dhami said he was inspired to launch the start up by studies conducted by renowned consumer psychologist Paco Underhill. Underhill has highlighted how much more likely shoppers are to buy something they have tried on, and labelled the dressing room the "forgotten space of retail".
Dhami, whose back ground is in property, said Wilderooms will be a "destination". It will feature a lounge area with a café and sofas, as well as a range of dressing rooms from standard to VIP.
"We're giving you a changing room full of things you want to be there. If it fits there's a very high chance you're going to buy it," he told Retail Week. "When you come to Wilderooms, we know your name, your size, your favourite drink. It's going to be a comfortable experience.
"We're trying to digitalise a traditional retail space. We're taking the best parts of retail, both online and offline - you can touch it, feel it, try it but you don't have to go from shop to shop."
Wilderooms, which counts former Land Securities commercial director Ronan Faherty among its non-executive directors, will take a cut of sales from its retail partners. There are 129 at present including TopShop, Reiss, House of Fraser and Karen Millen.
Dhami said: "We're looking to shake up retail. We're conscious not to be another Doddle or Collect+. We help facilitate the sale. It's a premium service - we want to create the Soho House of fashion retail."
He maintained the venture will drive footfall into shopping centres. "We're bringing the guys sitting behind computers in to the retail space," he said. "We're attracting the discerning consumer, time-poor and cash rich."
Wilderooms customers can add items across any retailer's website to a Wildreooms basket using a browser app.
Once they have finished shopping they visit the Wilderooms website to arrange a date and time to try on the items. Wilderooms, headquartered in tech hub Shoreditch, will then source the items and have them delivered to its dressing room lounge, which will cover about 1,300 sq ft.
Shoppers pay a fee for the service, designed to cover the cost if they don't show up, and then pay for what they want to keep. Wilderooms handle any returns back to the retailer.
Wilderooms customers will be able to use social media to share their product choices
Pi Labs chief executive Faisal Butt said: "With the advance of omnichannel retailing, shopping behaviours are changing and retailers and retail property landlords need to evolve with these trends.
"We believe WildeRooms is well positioned to help landlords make better use of their space and help retailers increase conversion rates from online shopping – all while providing a seamless and enjoyable service to consumers. We rarely come across businesses that address pain points for all the stakeholders involved, and WildeRooms seems to have hit the spot, in three different ways."
Cushman & Wakefield tech global lead - London Juliette Morgan said: "We really like the potential Wilderooms has to scale and hit a real pain point in the market about the interface between delivery logistics, etailing and retailing."