Boohoo has defended its employment record against allegations made by Channel 4's Dispatches documentary.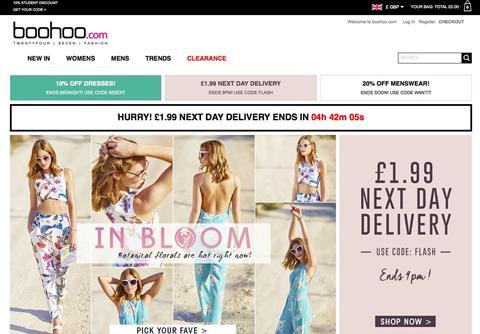 The etailer faced allegations of mistreating its distribution staff in the second part of a two-part documentary, which aired last night.
The documentary featured two undercover sources at Boohoo's Burnley warehouse over the Black Friday weekend.
One was a Channel 4 reporter who worked as a 'picker', selecting garments to be packed, while the other was a whistle-blower – a team leader who had worked at the warehouse for a number of years.
During the documentary, the gap between how agency and permanent staff were treated – a common theme in investigations into retail operations at warehouses – was highlighted.
Policies allegedly enacted by warehouse leaders managing agency staff included docking 15 minutes of pay if staff were one minute late to work, and operating a three strikes policy, with employees receiving strikes for missing a day of work due to sick dependants or for checking the time on their phones.
Boohoo came under fire in the first part of the two-part Dispatches documentary, which alleged that garment-makers supplying British retailers were underpaying their workers, with wages only amounting to around half the National Minimum Wage.
'Wellbeing a priority'
Boohoo said today that it wanted its employees to "share in the success of the business".
It said: "We want to stress that although we have experienced rapid growth in the past few years, the wellbeing of our employees has remained one of our top priorities.
"We recognise that we don't always get everything right first time; however, we have a number of policies and procedures in place to protect our people and we work hard to ensure that high standards are met.
"We are not a faceless giant of an employer, the Boohoo family is one that looks to engage with and invest in our team.
"Boohoo, like most employers, has policies in place to manage the performance, conduct and attendance of its staff"

Boohoo
"We recognise that there are always improvements that can be made and we will continue to work hard to ensure that we are doing all we can to protect our employees across the business."
It said 'strikes' were not in line with its current policy and that this was "legacy language" passed on by an agency which it had stopped working with.
It added: "Boohoo, like most employers, has policies in place to manage the performance, conduct and attendance of its staff.
"We are disappointed that some individuals still refer to 'strikes' as shown in the programme. We are working, and will continue to work within, the warehouse to ensure that there is consistency in communication across all managers and team leaders."
It added that both agency and permanent warehouse staff are paid more than the National Minimum Wage and that it employed 330 former agency staff on permanent contracts last year.