Its foray into diversification may have faltered in the 1980s, but Next's latest move into garden and home may be on the money. By Gemma Goldfingle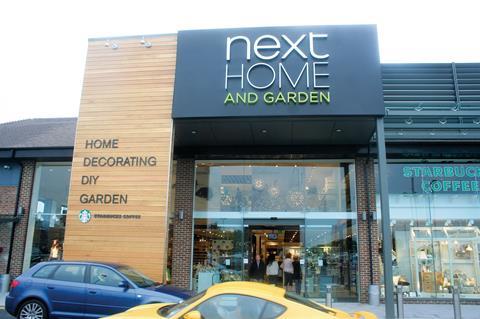 Eyebrows were raised when fashion retailer Next revealed in April that it was to venture into the world of DIY and garden centres.
But fast-forward five months and Next Home and Garden, which made its debut in the seaside town of Shoreham, West Sussex last month, turned out to be the retailer's most successful store opening ever.
In fact it was not the first time Next has showed an interest in green-fingered consumers. In the late 1980s it launched the ill-fated Next Gardening Directory.
Back then the retailer was enthusiastically embracing diversification and ran an eclectic retail portfolio that took in everything from chemists chain Allens to Dillons convenience stores.
However, the retailer came a cropper and was forced to shed many of its peripheral businesses and concentrate on its core fashion offer. So, why is the retailer convinced that diversification, whether through young fashion business Lipsy, kitchens online, standalone home stores, and now gardening, is right this time?
Going for growth
Next chief executive Lord Wolfson has been unequivocal in his view that retailers cannot expect never-ending like-for-like growth. Next's retail like-for-likes dipped 4% in its year to January 2011, although booming Directory sales offset the fall.
The Next boss believes that new revenue streams can ensure continued growth, and Arden Partners analyst Nick Bubb agrees that diversification is becoming increasingly important in these tough economic climes.
"We're in a no growth environment where market share is under pressure," says Bubb. "Supermarkets are pushing ever more into non-food and online players are taking a chunk out of revenues. To fight back, retailers are trying to push into new areas."
That is the context in which Next's interest in new business opportunities should be seen. The £17.4m acquisition of young fashion brand and retailer Lipsy in 2008 is a case in point, although closer to Next's core apparel offer than some of the other initiatives. Since the acquisition Lipsy – which traded solely through concessions until the deal – it has opened 27 stores and a further 20 are planned this year alone.
It was also in 2008 that Next pushed further into the home category. It already sold homewares though the Directory and started to open stand-alone Next Home stores that year.
Although Next does not break down sales for the Home stores, the fact that 240,000 sq ft of the 440,000 sq ft of new space it intends to add this financial year will be devoted to 15 standalone Homes stores, is testament to the success of the model. The retailer said that last year, new home stores generated returns in line with its mainline business. By the end of this financial year it will have 44 Home stores.
Retail Week Knowledge Bank director Robert Clark believes the retailer's recent ventures into home and young fashion are both logical developments from the core business, and the push into gardening is in a similar vein.
"It's part of the business' evolution," Clark says. "Its core operation is always going to be fashion but it's a mature business and mature businesses need to evolve. Home was the next step and a clear opportunity to extend the brand."
Clark believes the retailer is reaching saturation point in terms of its fashion store portfolio so Home offers an opportunity to grow.
The 56,000 sq ft Shoreham Home and Garden store skilfully weaves together all three of Next's offers across its two floors, so customers can pick up a conservatory or a new pair of shoes.
The most novel part of the store is the garden area, which is divided in two – a conservatory style space that sells furniture and ornaments for the veranda, and the outdoor garden centre where customers can choose decking, stone tiles, a plethora of plants and even sheds.
Completing the look
Although it is the garden centre which is attracting attention, the Shoreham store also brings many firsts for Next's home offer – Bubb says the shop is more of an extension of the retailer's home store than a garden centre.
Along with the new DIY section, which includes power tools as well as decorating goods, flooring and carpets, the retailer has widened its existing categories including bathroom and kitchen.
Customers can now buy an entire room, from bathtub to cabinets and even doorknobs. The retailer also offers a fitting service for bathroom, kitchens, carpets and flooring.
Next trend and lifestyle designer Jo Lords believes the retailer has found a niche by aiming its home and garden products at women. Around the store, both in home and garden, the retailer has created sets, with signs informing shoppers of how to 'get the look', much like a home interiors magazine.
Lords says: "We offer solutions for our biggest customer – the female, and she often buys for the whole family. We show what their room could look like, we want her to envisage it in her home."
She says Next has also tried to make both gardening and DIY easy to understand for its customer and instructional leaflets are peppered around the store to demystify how to do tasks.
Clark says Homebase, the Home Retail-owned home enhancement retailer, has also attempted to target women in recent years but agrees that it is a relatively untapped market within the DIY sector.
He observes: "Homebase hasn't necessarily optimised that strategy. Whereas Homebase is approaching it from a pure DIY angle, Next is doing it from a fashion perspective. It may appeal more."
The right move?
Next has taken the leap into gardens and DIY at a time when home-related retailers are suffering. Well-known and well-established names, including Focus DIY and Habitat have fallen by the wayside.
Unsurprisingly, that has led some observers to wonder why Next should be prioritising Home stores, but buying manager Rona Olds is confident Next can succeed.
She maintains: "Some people say we must be mad to expand in this environment but we have a model that is working and we're viewing it as a big opportunity."
Wolfson himself said last year that it was a great time to expand a home chain as existing players exited the market, releasing capacity.
Bubb points out that gardening is a fragmented market with room for new players to expand into. Although he remains unconvinced about the related focus on DIY, he concedes that the shift is not illogical and that consumers still spend large sums on home enhancement.
But can Next be certain that the venture will not follow the path of its first foray into the garden business? Next creator George Davies was sacked following the failure of diversification in the 1980s.
Bubb believes Next's "reckless expansion" led to Davies' downfall. "They were buying things left, right and centre. They got in huge debt. It was investing in poor quality business that lost him his job," he says.
However, Clark points out that Next was just one of many retailers who over-expanded into non-core categories back then.
"A number of retailers were operating as conglomerates and as a successful retailer Next joined that movement," he says. "Storehouse was doing it too. The logic was to use the same centralised functions and branch out into other fields from there. It didn't work."
Clark says the breadth of the business stretched the management team at the time. "Inevitably, when a business gets that wide there are bits that do less well. The smaller add-ons can become a distraction to the core," he says.
Cutting out the risk
Both analysts agree it is a different story 20 years on. The big difference seems to be that the new avenues being taken are well-thought through, rather than risky moves into unchartered territories.
Bubb maintains: "They have built into home and furnishings from a solid base. Moving into gardening seems logical." He highlights the difference in management culture and says Wolfson's cautious approach is in stark contrast to the Davies style. "It's not as though they've gone out and bought Homebase," he says.
Clark agrees that Next is merely tipping its toe in the water, rather than jumping in at the deep-end.
"It's containable. If it doesn't work then they'll just scrap it," he says. Clark points out that the retailer was quick to abandon the value fashion chain Lime, which it tried out in the last decade. "It's not afraid to trial things. If it doesn't work, it doesn't work."
However, Bubb points out that Next must have confidence in the format, especially at Shoreham, because it paid a premium to former owner Homebase for the premises – one Homebase's best performing locations.
Next will wait and see how the Shoreham store trades before deciding on the format's long-term potential. However, it is thought that more stores are already being planned – there has been speculation that Warrington and Dublin may be new locations for Next Home and Garden. For Next, inventive but sensible diversification may represent a path to an even richer brand.
Time to Diversify - The retailers mixing it up
Next is not the only retailer to be expanding into new areas during harsh trading conditions.
Argos has recently launched books online and greetings card specialist Clinton Cards has tabled plans to move into party organising.
Diversification has been even more dramatic at HMV, which was hard-hit by the digitalisation of the music business. It has pushed into technology as it battles for new relevance, has a chain of music venues and even cinema.
Retail Week Knowledge Bank director Robert Clark believes such initiatives are inevitable as retailers adapt to a changing environment.
Clark says: "It's a tough marketplace out there. If retailers stand still they leave themselves open to competitors."
Perhaps the greatest masters of diversification have been supermarket groups. Tesco customers can do anything from buy cars to sell unwanted gold. Bubb says: "Supermarkets are stealing market share from all retailers. To defend themselves retailers are trying to diversify themselves"