An additional ranking compiled by analysts in Retail Week's latest report reveals the UK retailers that achieved the highest online sales growth for FY2021 – and features some surprising names
Amazon, Sainsbury's and Tesco may be excelling at ecommerce, but they are not the only names delivering online sales, as our latest report shows.
In The UK's top 30 ecommerce retailers, Retail Week analysts have compiled an additional data ranking of the country's retailers by FY2021 online sales growth, with several smaller brands, niche retailers and – surprising due to their store-focused past – heritage brands topping the charts.
These include the likes of Fenwick, Sosandar, Loaf and Beauty Pie, alongside 26 others.
The report, produced in association with Ecommpay, Marigold and Zendesk, places Fenwick in the top position with 200% year-on-year sales growth – £7.5m for FY2021 up from £2.5m.
However, while this is due to Fenwick only launching its first website in 2019 and playing catch-up, more significant is the finding that burgeoning retailer Sosandar, established in 2015, features in fourth place.
The British womenswear brand generated 142% year-on-year online sales growth, with its ecommerce sales rising from £12m in FY2020 to £30m in FY2021. Find out how it achieved such impressive figures in our exclusive case study below – plus why homewares retailer Loaf has come in at number 16.
View the full ranking of the top 30 ecommerce retailers by FY2021 online sales growth here [add link].
Ecommerce ones to watch – Sosandar and Loaf
Sosandar (4)
Third-party ecommerce collaborations key to growth

Making moves from pureplay to omnichannel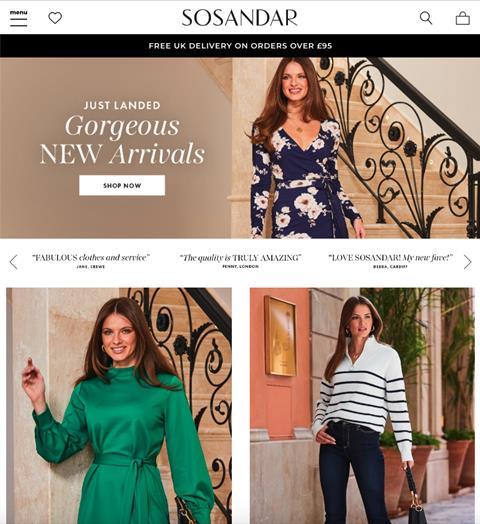 Pureplay womenswear retailer Sosandar has seen sales growing in every product category, and on its website alone the retailer said in January 2023 that its customers traded up into higher-priced items and categories, reflected in the average order value for Sosandar rising 11% year on year to £106.37.
Much of this ecommerce growth has been driven via partnerships in which Sosandar sells its range via the John Lewis, Next, Marks & Spencer and The Very Group websites.
Most recently, in January 2023, it announced a tie-up with Sainsbury's to offer a select range of items through the retailer's online channel while also making the move into omnichannel with some of its range set to be sold in Sainsbury's stores.
Loaf (16)
Investing in website improvements

Using VR tech to incentivise purchases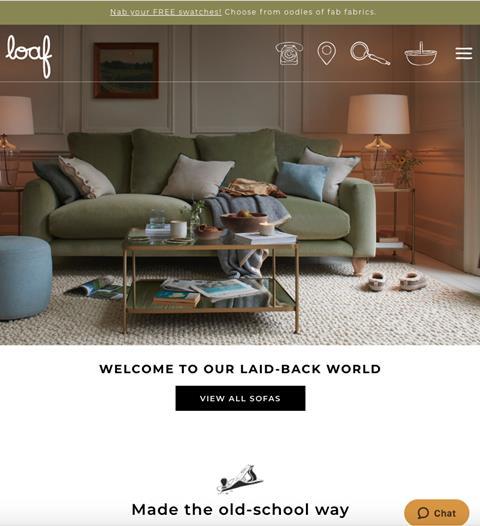 Loaf saw monumental 44% growth from £61m to £87m in FY2021. The homewares retailer is capitalising on recent improvements to its website – such as the use of more in-depth product information on site and editorially driven product content with large pictures of items – while using its four furniture showrooms in London and Manchester to incentivise online sales.
Visualisation technology is high on the agenda too, with Loaf working with software company Cylindo in May 2021 to introduce a 3D product-visualisation tool and 4K zoom to help customers engage with its products online.
The technology allows for a 360-degree view of the products and a 4K close-up of textures and materials.
Find out which other retailers smashed ecommerce growth in FY2021 by downloading your free copy of The UK's top 30 ecommerce retailers report today.
You will also get access to:
The primary ranking of the UK's top 30 ecommerce retailers by forecast online sales for FY2022
The biggest digital trends being maximised by the country's ecommerce power players
What a great ecommerce team must look like to meet consumer demand
The new rules of online fulfilment and returns