Amazon is gunning to grab share outside its core product categories as international sales in its non-media division overtook media for the first time.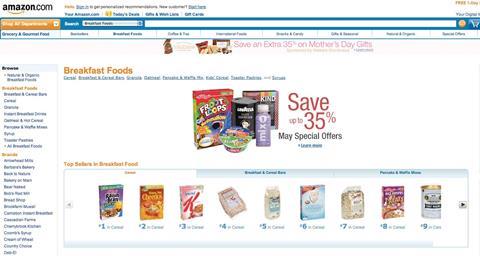 In its first quarter to March 31, non-media - which includes fashion, grocery, DIY and health and beauty - made up 52% of international sales, which includes the UK arm. Media sales include its core categories of music, DVDs, books and electronics.
Amazon UK managing director Christopher North said non-media was growing "extremely quickly".
He said: "New business is a very material part of our growth. We've launched 10 to 15 new product categories within five years and will continue to expand. I don't see us running out of opportunities."
North said he wanted Amazon to be viewed as the site "where you can buy anything".
Amazon's growth will send shivers down the spines of retailers, both pure-play and those with traditional stores, as the etail giant expands its offer to cover more sectors.
North said the UK's star performer was its grocery category, which it launched last summer. He declined to give sales figures but North said he was "excited" at the growth potential in the category.
He said: "We didn't set out to be a site where people do their weekly shop. We sell niche products, be it gourmet, ethnic or luxury foods. Customers often buy in bulk and we get a lot of repeat orders."
Amazon has increased its grocery offer from 22,000 products at launch to more than 50,000.
In its first quarter Amazon reported a 31% jump in sales to $4.39bn (£2.64bn) at its international division, which includes Germany, France, Italy and China as well as the UK.
Despite a global net sales rise of 38% to $9.86bn (£5.93bn) in the period, net profits fell by a third to $201m (£121m).
The etailer put the fall down to its investment in new products and technology such as an app store for Android phones and Checkout by Amazon, which allows customers to use Amazon login details to make purchases on other retailers' sites.
Retail Week Knowledge Bank director Robert Clarke expects further category expansion from Amazon. He said: "Over the medium and longer term there remain many product sectors into which Amazon could extend with its conceptually simple but technically hugely sophisticated format."