Training and retaining first-class ecommerce employees is one of the biggest challenges retailers face in today's multichannel marketplace.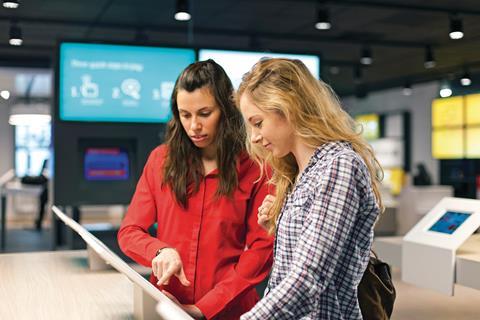 "I doubt Bertrand Bodson would have found a board role at Home Retail Group five years ago. Similarly, Mark Lewis would not have a board role at John Lewis if it was five years ago."
Martin Newman, chief executive of multichannel consultancy Practicology, is not being rude. His comments are no reflection on the men themselves, but rather a statement that back in 2009 the role of chief digital officer (Bodson) and online director (Lewis) would have probably not existed at most retailers, or at least not held the kudos that they do today.
"We are very clear about the skills and ways of working we need to bring in and develop across the business"

Sonia Astill, Argos
And these two roles are far from alone in being freshmen to the retail fraternity. Retail has established itself as a multichannel beast and that has demanded some newly created retail jobs to help hold the leash.
"The rise of multichannel has introduced new forms of expertise: social mediamanagers, copywriters, digital marketing managers, digital merchandisers, all the way to head of multichannel. The list of new titles is long," explains Sophie Albizua, co-founder of eNova Partnership.
"At the top end of the organisational structure, there is a new role of chief customer officer or customer director evolving," adds Newman. "This is someone who may or may not sit on the board, but they have a mandate from the board and a responsibility for ensuring that the customer experience is consistent across all touchpoints and all channels. As the customer crosses channels, there is also the requirement to have a single view of their behaviour.
"There is also the role of digital director. This can sometimes be a technology facilitation role or it can be a broader combination of technology and a commercial role. Therefore, there is an increasing requirement for CRM and data skills so that the retailer can ensure they are personalising the experience for the customer."
But new career opportunities are not just limited to managerial positions. Nick Curran, strategic services director at JDA, is seeing whole new departments created to help fulfil the demand made by click-and-collect and home delivery orders.
"Distribution has also seen the creation of specialist ecommerce picking and packing departments," he says. "Even further behind the scenes, roles such as digital designer, have been created to ensure the online world looks as good as the real world and the shelves are metaphorically filled."
Striking a balance
In these new roles the right mix of job-specific knowledge and retail understanding is difficult to find and as such the talent pool is said by most to be a small one – making those in that pool extremely highly sought after.
But that does not mean retailers are trapped in a never-ending bidding war for talent to fill newly created vacant posts. One solution is to look to experts outside of retail – an approach Argos is championing.
"In terms of matching the need to the skills, we are very clear about the skills and ways of working we need to bring in and develop across the business," explains Sonia Astill, HR director at Argos.
"We have brought in new people from different sectors where we have something to learn. For example, in the past year we have welcomed individuals from the FMCG, music and leisure industries, among others. A recent example is head of innovation Neil Tinegate, who joined us bringing great experience from the music industry, which has undergone a digital revolution over the past decade.
"The rise of multichannel has introduced new forms of expertise"

Sophie Albizua, eNova Partnership
"But we are also growing and developing the core retail skills we have already and we are outsourcing where we need fast results in very specialist areas."
Outside-retail recruitment; internal training; and outsourcing – it is a mix that appears to be paying dividends for Argos and many other multichannel retailers. Internal recruitment in particular is certainly making retail an increasingly attractive long-term career.
But each approach has its potential problems as well as benefits.
The danger of the first approach – outside-retail recruitment – is that while well-versed on the job specifics, the candidate may lack the retail understanding to make those skills effective. Take an analyst, for example. Newman says that good analysts for retail are hard to find as "what's required here is someone who understands data but can glean insight from the data that can be leveraged to make commercial decisions, rather than someone who is simply a number-cruncher". Those who cross both areas are extremely thin on the ground.
Location, location, location
Another issue – connected to a small talent pool but also related to the fact that many retailers are not headquartered in London – is attracting that talent from other sectors.
Somerset-based Screwfix has encountered this very problem. "For the many specialist and technology-focused roles we require, our location can prove a challenge as we're not based in a big city and many people don't realise they can pursue a fulfilling and challenging career in the Southwest, while still having a great quality of life," says Screwfix marketing director John Mewett.
A solution to these recruitment problems could be internal training. You don't need to compete, cajole or compromise if you can grow your own talent. Argos has an extensive apprenticeship scheme to do just that, with 2,000 staff on, or who have been through, the scheme. It's a similar story at Superdrug, which is launching its new online offering backed by existing staff trained for the task, according to Matt Walburn, Superdrug's marketing director.
Screwfix is also training up staff. "We are focused on recruiting internally by developing the skills and expertise of our staff," Mewett says. "For example, in our head office, many people have started off in the contact centre and have now developed their career into specialisms, while in our stores, 55% of our retail managers have been promoted from within the company, through a number of schemes."
There are downsides here, too, though, Newman claims. "Retailers generally lack the right skills or structure to provide appropriate training around digital and ecommerce
roles," he says.
Another problem is assuming that just because someone is under 25 they will be digitally savvy and easily grasp social media and the like. The truth is those roles need much broader skills than just being used to using the platforms. Proper training is needed.
Which takes us to the last job-filling solution: finding someone outside the company to take the duties of the role off your hands. "Many of the new digital functions such as digital marketing or development can be outsourced to agencies. It is better for an organisation to take that route as it is maturing on its multichannel journey, rather than revolutionising an organisation structure all in one go," says Albizua.
Handing over control is expensive, however, and potentially leaves the retailer overly reliant on external agencies with no in-house knowledge for the future. Likewise, outsourcing can also be a slower, less flexible and organic process. Argos' Astill says it is about outsourcing the right type of role.
"The important thing is to have a balance, which is directed by your strategy. In our case, for example in IT, we have major infrastructure projects running alongside agile teams which include a mix of in-house and outsourced talent. It depends on what you need to do and how fast you need to move," she explains.
It's tough but not impossible, then, to meet the demands of multichannel retail with the right staff in place. And the good news is that things are going to get easier.
"As the industry continues to evolve," says Albizua, "we will begin to see more and more staff that have spent their entire careers in multichannel and ecommerce, as opposed to experts that have switched sectors."
And that means a bigger talent pool, more choice, and ultimately an easier job for retailers looking to find the skills and people they need to survive in modern retail.