Television shopping in the UK turns 20 years old this week as QVC celebrates its anniversary. Gemma Goldfingle speaks to boss Dermot Boyd.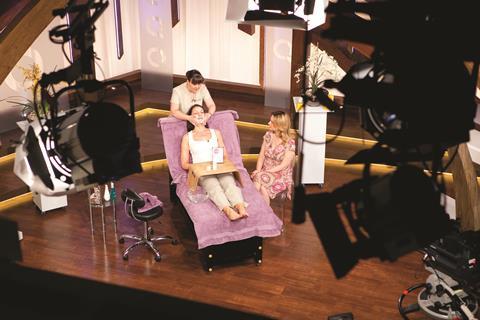 Mild mannered Ulsterman Dermot Boyd became the king of TV shopping in the UK by good, or perhaps bad, fortune.
Boyd had just been made redundant from his role as group controller of fashion group Alexon when he joined the founding team at QVC UK. "The reason a number of the management team are here is because the main question [at the interview] was 'can you start tomorrow?'," he says.
Boyd admits he had his doubts about whether US TV shopping channel QVC would work in the UK when he took the role. It made its debut here on October 1, 1993 on Sky's new multichannel service.
"The big question was would multichannel TV work because TV in the UK was four channels," he says. "Everyone now looks at Sky as the dominant player, back then it was an enormous gamble. Its start-up losses were somewhere in the region of £1bn."
It wasn't a smooth journey to success. Sky was projected to be adopted in 5 million homes when it launched.
However, only about 2 million households signed up. But after less than a year Boyd's fears were allayed.
"We went from turning over £1.2m in July 1994 to £1.7m or £1.8m in August when we launched [jewellery range] Diamonique, which was taken up very successfully. That's when I thought it could work."
"We were in fewer homes than we wanted to be but looking at how fast the TV audience was growing. When customers came in, they tended to come back," he recalls.
Boyd says the appetite for TV shopping stems from the amount of information viewers can take away from broadcasts.
"If you take our biggest category when we started, jewellery, on the high street you look at something very small from three or four feet away with no information about it. We can tell you more about the stone, where it comes from, what is the cut. It's also not intimidating. It's your choice to watch it."
Structural changes
The growth of online and out-of-town, and the decline of many town centres is undoubtedly changing the high street.
However, that is nothing compared with the structural shift in TV shopping, according to Boyd.
"We've gone from four channels to hundreds of channels and we've gone through several cycles of technology," he says. "In retail, some things have changed, but fundamentally direct selling is still the same percentage of sales it was 20 years ago. It is now through online and mobile rather than catalogue and phone."
Back when QVC launched it was one of 12 channels on Sky. But the move to digital TV brought the opportunity to air hundreds of channels.
"If you were on a high street and there could only be 12 shops, you'd be pretty happy about it if one of them was yours," says Boyd.
"All of a sudden there was a separate shopping section and instead of being number 12, we were number 615. It was like you were on the high street and suddenly you're two streets back. People who know you will sometimes go out of their way and find you, but not as often."
Boyd says QVC now struggles to pick up shoppers who are browsing across channels. He says the difference is notable between Sky, where it is now channel 640, and Freeview, where it is channel 16.
There are now 40 shopping channels on satellite TV and Boyd says the sheer number competing for viewers' attention is the greatest challenge.
But digital has also opened opportunities. QVC is now in every household following the digital switchover when analogue terrestrial TV was turned off last year.
The QVC magic
Boyd has seen many businesses try and fail to conquer TV shopping. Littlewoods, JJB and most recently Argos, which axed its channel earlier this year after less than two years on air, were unable to recreate that QVC magic.
Boyd says it is something that was built up over time. "It's partly about the brands we offer and it's partly about the presenters and the guests," he explains. "Our customers build up a relationship with them, as with a TV programme.
People get used to their local news anchor or the actors in a soap. The magic is the relationship and the
personalities."
Boyd, who describes QVC's format as part shop, part daytime TV, says it is trying to build on its presenters' popularity - many of whom are inundated with fan mail - on its website. Presenters now blog and the most popular areas of its website are those related to the hosts.
The retailer's selling philosophy is also critical to its success. Boyd says his presenters are trained not to oversell or hype products. "We want to make it informative but to also make it a friendly chat," he maintains.
However, QVC is a business that is driven by data and real-time analytics. A visit to the gallery during a TV broadcast reveals an environment akin to a trading floor. Sales figures update every five seconds and the producer ensures the products that are selling well are pushed by the presenter.
"For the most part what we sell is what people want to buy," says Boyd. The effect of close-up on a product or a warning about an item selling out can be seen immediately as a sales spike in the real-time data.
A multichannel business
Much like high street retail, the TV shopping industry has come under threat from growth of online. However, Boyd believes its impact is overstated.
He points out that although the number of TVs per households has started to fall, which he puts down to the growth of tablets, the size of screen has increased."
"There's more TV watched now than 10 years ago despite all the other media available, according to Ofcom," he observes. "Books, magazines and newspapers have probably taken the brunt of decline. People still look for a communal experience with a big screen."
QVC is now a multichannel business and Boyd says the majority of its new customers find it online first.
Online now accounts for 30% of the business and mobile sales are growing rapidly. Boyd says that the retailer is in the fortunate position of being able to be viewed on two screens by customers who are increasingly using tablet devices while watching TV.
The retailer is investigating how to make the most of this trend and is deciding whether to have complementary content on its website for such customers.
In the US, one of its most popular shows, In the Kitchen with David, involves a lot of interactivity with online customers.
Boyd says he is watching closely to work out how to develop the multichannel strategy in the UK.
The growth of online does not inhibit QVC's expansion plans for its core TV sales business. It doubled its number of UK TV channels to four in August with the addition of QVC Style, showcasing fashion, accessories and jewellery, and QVC Extra, which features the entire product range.
Technological opportunities
It is not just new channels but new platforms that are making the future bright for TV shopping, according to Boyd.
The retailer distributes its content across seven platforms, including Freeview, Sky, Freesat, its web and mobile sites and now Internet Protocol TV (IPTV), which Boyd thinks could be a long-term substitute for Freeview.
IPTV is delivered through broadband connections rather than radio frequency, meaning an unlimited number of channels can be broadcast.
In contrast to the early days, Boyd views new technologies as an opportunity rather than a threat. He says: "Making our content accessible to as wide an audience as possible will give us the opportunity to grow and technology is allowing that to happen."
Twenty years on from the launch of QVC, Boyd's step into the unknown has paid off. TV shopping now spans 40 channels in the UK and could expand further if IPTV takes off. Boyd says he is most proud of creating a brand that is now the market leader.
"Back then when I said where I was going, no one had even heard of us," he recalls. "Now people know who we are - it might be because of the amount of spoofs that we have stimulated but they definitely know who were are." And that makes for a very happy birthday indeed.
Building brands - The beauty of TV
QVC is broadcast in 26 million UK homes and has more than 1 million customers, making it a powerful sales tool for the brands that sell on it.
Leading brands such as Dyson, Apple and Bose - which sold £1m worth of products in one day - all sell on the TV shopping business.
QVC has also helped build the brands of handbag designer Lulu Guinness and cosmetics queen Liz Earle, who first launched on the TV channel in 1996, a year after her business was established.
"Liz Earle was one of the people who saw the potential of gaining national coverage by working with QVC early on. Instead of having a store in every town, she can have national distribution without the rent roll risk," says QVC boss Dermot Boyd. Representatives from the brands, including Liz Earle herself, join presenters to explain products' benefits to the customer.
Beauty is QVC's biggest category accounting for 30% of sales. Premium brands such as Elemis and Decléor sell on the channel, which has always attracted an upmarket shopper.
Boyd explains: "There was always a misconception that QVC was the lower end of the market but actually the reverse was true. Back then to get multichannel TV you had to be able to pay for it so it was self-selecting a customer base that was credit-worthy."
Stats and sales
Since viewers first switched on to QVC it has led the way in TV shopping and passed some important milestones
QVC launched in the UK on October 1, 1993
October 2010, QVC Beauty, a dedicated channel showcasing solely beauty 24/7, launched
The most expensive item ever sold was a strand of South Sea pearls for £26,851
The QVC channel broadcasts live 17 hours a day, 9am to 2am, 364 days a year
In 2010 a replica of Kate Middleton's engagement ring, which cost £34.32, saw sales increase 800% overnight
Source: QVC