Supermarket Morrisons has apologised after its decision to beam an advert onto the Angel of the North sparked outrage.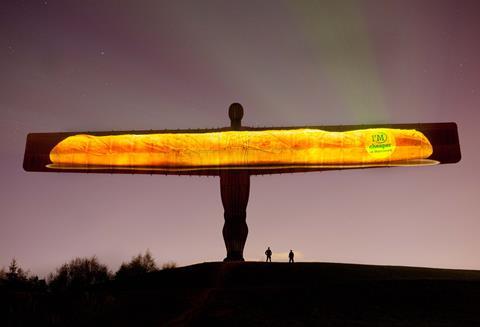 Morrisons tried to kick start a new price-cutting initiative over the weekend by projecting an image of a baguette onto the artwork, which was created by Antony Gormley.
A Morrisons spokesman told The Evening Chronicle: "We're sorry if you thought we got carried away by shining a baguette on the Angel of the North and apologise unreservedly to those to whom we have caused offence.
"We were trying something different which was meant to put a smile on people's faces but clearly it wasn't to everybody's tastes. We're so proud of our northern roots and the last thing we want to do is offend anybody."
The stunt, which was set up without permission from Gateshead Council, provoked uproar with some on Twitter claiming Morrisons had "defiled" the artwork, which was designed to signify the Northeast's industrial heritage. Some threatened to boycott Morrisons in response.
Gormley told The Guardian: "I'd rather the Angel is not used for such purposes, but it's out there."
Meanwhile, Morrisons has also faced criticism after it axed funding for social activities for hundreds of elderly former staff.
The supermarket has stopped the £5,000 a month payments to subsidise pensioners' lunches, a magazine and other perks as it claims too few people took part. However, The Daily Mail said correspondence it had seen states the motive was to funnel money into cutting prices in stores.