Retailers have kick-started the race for online Christmas spend this week with a raft of offers as they capitalise on Mega Monday, traditionally the busiest day of the year for etailers.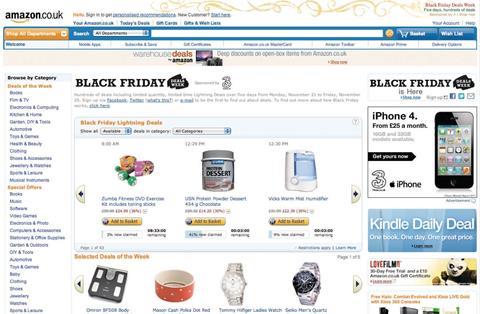 Online retailer Play.com was one of the first to launch, with its Mega Monday promotion this week, which offered up to 60% off some lines.
There has been some debate as to when Mega Monday falls. Etailer The Hut believes it will fall next week, for instance, and group commercial director Richard Chapple said it would run special promotions across its fast-moving goods businesses The Hut and Zavvi.
Dixons-owned Currys and PC World launched a Sale yesterday, running until November 28, which it expects will be its biggest online trading day. The retailer forecasts visitor numbers will increase 25% over the period, compared with 15% last year.
Etail trade body IMRG does not expect that one particular day will stand out for sales in the run-up to Christmas. Instead, it predicts a peak trading fortnight from November 28 and forecasts that £3.72bn will be spent over that period.
However, the trade body questioned whether discounts will stimulate spending in the current environment.
A spokesman said: "The Sales have never stopped on the high street." He added that the Mega Monday period was in the context of "months and months of discounts. It remains to see whether we will see any effect from Mega Monday deals".
The flurry of online promotions come as new figures showed that while growth in the channel has slowed since 2006, it has bounced back in the first half of this year.
Sales rose by 14% in the first half of 2011, after slowing to 8% in 2010, down from 20% in 2009, 35% in 2008 and 58% in 2007.
The report, compiled by Shop Direct sister company Transactis, is based on the transactions of 39 million customers.
US retailers Amazon and Gap kicked off promotional activity early as they attempt to bring American phenomenon Black Friday – the discounting frenzy that follows Thanksgiving – to the UK. Comet has also launched its own series of Black Friday deals this week.