The number of start-ups in retail technology is growing quickly and Retail Week is highlighting some of the best. This week Appflare is in the spotlight.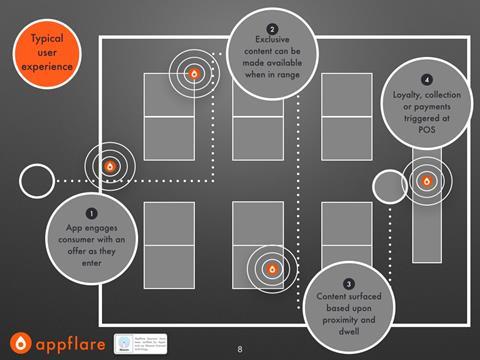 Appflare has a large network of beacons which communicate with retailers' existing apps - chief executive Owen Geddes tells us more.
Appflare
Founded: September 2013
Investment: The business has been privately funded by the founders, and is now cash positive, so no external investment has been taken to date
Retail partners: We have announced our partnership with One Stop stores, with a national rollout that was completed in August this year. We are currently rolling out thousands of independent retailers in major UK cities. Over the coming weeks we will be announcing new retail group partnerships
Founders: Owen Geddes and Jay Chinnadorai

What it does:
Geddes says: "Appflare allows brands and a retailer to talk to consumers, at the right place and time, on their mobile, with tailored content and offers. We have a large network of beacons throughout the UK in retail, hospitality, and entertainment locations, which we use to trigger content across a selection of apps. We build the full solution and user experience from design through to campaign delivery and redemption at the point of sale. We give unique data insights into customer profiles, shopping habits, purchase history and campaign response."
Why is it relevant to retailers?
"Our technology allows retailers to finally engage customers through their preferred medium - their mobile. Retailers can form on-going customer relationships backed with an incredible level of data, which can be used to ultimately influence shopping habits. The Appflare toolset can 'beacon enable' a retailers existing app, increasing its usefulness to customers. This has shown to dramatically increase the number of active users, increase engagement rates and decrease app retention. In short Appflare makes retailers apps relevant to their consumers."

More information: