Evans Cycles' clever new campaign promotes its trade-in scheme by showing shoppers that there are better things to do with their unused bikes.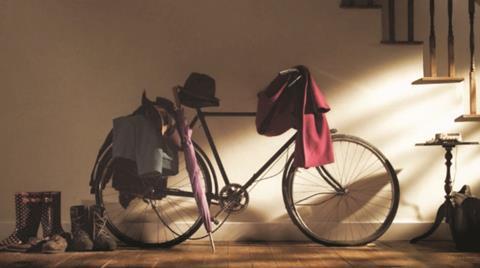 The TV advert, created by Antidote, begins with a bicycle leant against a wall in a dark and shadowy hallway. As the voice-over states that "this is not a bike, it is a doorstop, a coat hanger… ", the ad skilfully employs a series of jump cuts to illustrate the bike's present uses, such as it immersed in jackets.
The old bike then falls down and the hallway brightens up. The ad's voice-over and text reveal that if cyclists trade in their "old banger" they can get up to £100 off a new bike. As the campaign's theme ties in directly with the exchange offer, viewers are likely to remember the promotion as well as the brand.
The ad then speedily jump cuts through a selection of its new bikes, highlighting the retailer's broad range, as the voice-over underlines what consumers could get in return for a trade-in with the line: "This is a bike."
Beautifully filmed and with an elegant piano score, the ad's gentle pace allows shoppers to identify with the situation and then become lured in by the "shiny new bike".
The campaign also translates well into print where photos of derelict bikes are straplined with terms such as 'Shed dweller'.
Across both mediums, the promotion is simple and clear, telling shoppers there is far more potential for their old rust buckets than a doorstop. It could well be the first pedal on their new bike.