What differentiates one supermarket from another is not just layout and product, but also the way in which services are marshalled. John Ryan reports from Milton Keynes.
Supermarkets all look more or less the same. The reality of laying out a large food store is rather more restricted than might be the case in, say, a fashion emporium.
Yet there are differences, particularly when it comes to the services that form part of the customer journey and the way they are organised.
"Milton Keynes is a good place to see all of this in action, as all of the major UK supermarkets have large stores in relatively close proximity"
This means that while some will have self-scanning, click and collect and two banks of self-service checkouts, others may have only some of this: perhaps in the interests of saving money, or maybe they've just not got round to it.
And it is these elements that, to a very substantial degree, differentiate one large supermarket experience from another.
Milton Keynes is a good place to see all of this in action, as all of the major UK supermarkets have large stores in relatively close proximity (with the exception of the Asda, which is out at Bletchley – effectively a Milton Keynes suburb).
Asda Milton Keynes Supercentre, Bletchley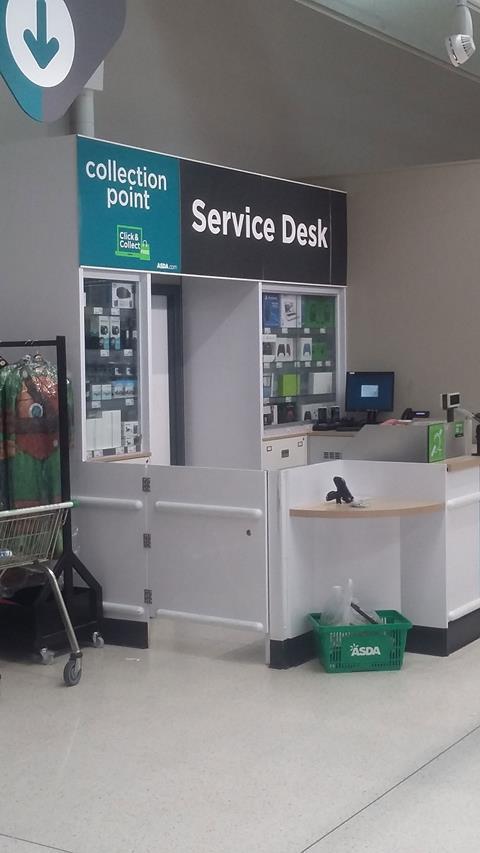 This is a vast store, and the first thing that grabs the eye upon entering is the freestanding wall filled with 'scan & go' handheld devices.
These are aimed at those who wish to keep track of how much they're spending and then to effect a speedy exit at the end of the shopping journey.
On a quiet late morning, roughly half of the widgets appeared to have been taken.
To the left is the kiosk counter (tobacco) and the Service Desk, which was unmanned and doubled up as the click-and-collect point.
There is also a large drive-thru 'grocery collection' canopy at the far end of the car park outside. Those using this service collect from boxes opened by a digital code.
For those who make it to the back of the store, the George counter has been winsomely designed and offers a discrete experience for those on a non-food shopping mission.
The major checkout area at the front of the shop was impersonal, and although there were many several different checkout options, it was quite hard to work out which was which, owing to a lack of good signage.
Morrisons, Milton Keynes Leisure Plaza
Emerging from the covered car park beneath the store and heading for the travelator, the shopper may notice the orange Amazon lockers where items ordered online can be picked up. It does look like something of an afterthought.
On arrival in the store proper there is a mid-shop counter for customer services, located directly next to the self-scan checkouts. Knowing which of the latter is free is simple thanks to the usual traffic-light system.
This was not the case on the manned cash desks, however, which lacked lights showing which were operational and meant that it was hard to work out which till to head for.
Morrisons has been doing much to raise its game over the past couple of years, but still has some way to go as far as the end of the shopping journey is concerned.
Tesco Kingston Extra, Milton Keynes
This is a relatively old-fashioned two-floor Tesco Extra that has undergone continuous updating, but where the low ceilings (owing to a mezzanine) still mean that it has a cramped feel.
"The store packs a punch when it comes to services and making sure that shoppers are aware of them"
That said, the store packs a punch when it comes to services and making sure that shoppers are aware of them.
The customer service desk, tucked just to the left of the entrance, has a sign informing the onlooker that it covers 'General Enquiries, Clubcard, Returns & Exchanges', and also offers Tesco Bank services.
The long run of cash desks has, at the customer service desk end, a self-service area, corralled by a low, plain wood fence.
The white-and-Tesco-blue colour palette extends the length of the line of checkouts, and at the far end of this there is another bank of self-service tills.
Beyond sits the 'scan as you shop' area, which gives those using it a semi-VIP feel.
There is a simplicity to the services offer in Tesco, which helps to promote a sense of ease.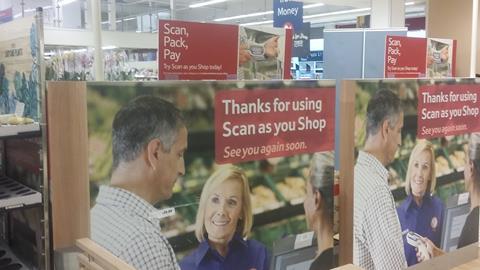 Sainsbury's Milton Keynes Superstore, Witan Gate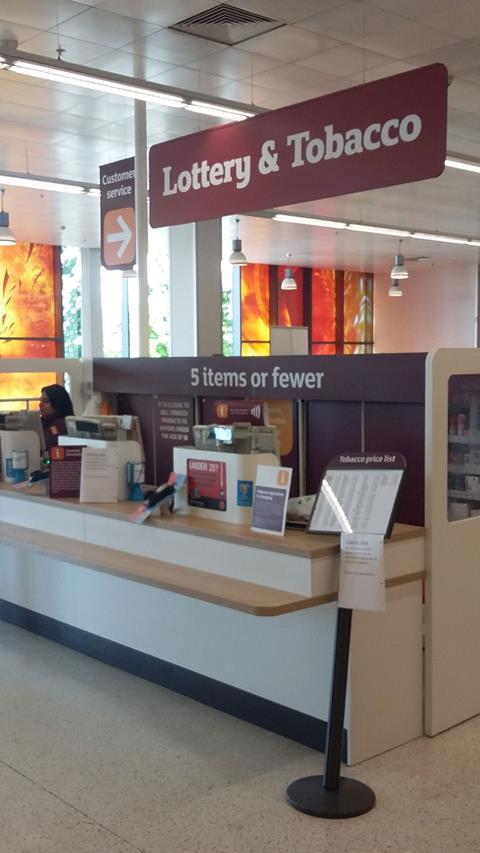 The Sainsbury's in-store service proposition is more complex than most of its rivals owing to the fact that it now has to accommodate elements of Argos alongside the normal supermarket features.
This means that there is a mid-shop kiosk/touchscreen with the legend 'Click & Collect' on it that enables shoppers to pick up previously ordered Tu, Argos, eBay and DPD items.
Like Asda, this means a divide between food and non-food.
The rest of the service offer is consistent with its competitors, although full marks to Sainsbury's for advertising a checkout for '5 items or fewer', rather than '5 items or less'.