Lidl's first UK brand campaign sees the discount retailer focus on quality fresh produce with a TV ad campaign entitled #LidlSurprises.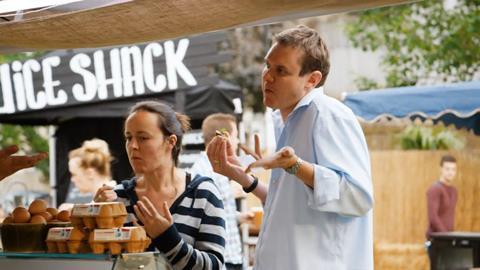 Discount grocer Lidl is investing £20m in its first UK brand campaign as it seeks to capitalise on the growing popularity of value supermarkets.
The drive comes as the grocer revealed it expects UK sales to top £4bn in 2014, a 20% surge on the £3.3bn it recorded last year.
Lidl's campaign turns the heat up on its bigger under-pressure rivals as they struggle to compete in a changing grocery landscape.
Along with Aldi, Lidl's relentless march on the UK has eaten into the market shares of established giants in the grocery sector.
Tesco and Morrisons are particularly under siege. Tesco suffered a 0.4 percentage point fall in share to 28.8% in the 12 weeks to August 17 while Morrisons' share dropped from 11.3% to 11%, according to Kantar data.
That contrasts with Lidl's share, which increased from 3.1% to 3.6% year on year.
The big four have responded by slashing prices, and the skirmishes have sent food inflation into tailspin. Last week the Office of National Statistics revealed that the amount spent in food stores in July fell 1.3% year on year – the first decline since records began in 1989.
Shore Capital analyst Clive Black said that throughout the downturn the big four had been "arguably taking their customers for granted by depending upon inflation for sales and over-protecting gross margins". He added: "Unfortunately the shoppers sussed their trading strategies out and went elsewhere."
Lidl's new TV ad campaign, '#LidlSurprises', launches on September 4, and is the first to focus on the brand rather than seasonal products.
Lidl UK managing director Ronny Gottschlich said: "We've always believed that there doesn't need to be a compromise between offering excellent quality and excellent value and, as our sales figures show, the British public increasingly shares that belief."
Filmed at a specially constructed farmers' market in London's fashionable East End, the ad features 'real people' who are surprised to learn that the quality fresh produce is sourced from Lidl.
The TV ad will be accompanied by print and social media activity.
Lidl also aims to promote its locally sourced products. UK-sourced goods will account for more than £1.75bn of Lidl's turnover in 2014 and 65% of its range is sourced from the UK. It also exports £250m of British produce, such as Scottish whisky, to the Continent.
In June Lidl unveiled plans to open 20 stores in nine months as part of a £220m UK expansion drive. The 600-store retailer eventually wants to operate up to 1,500 shops here.
The campaign follows the launch of Lidl's first full fashion range, which hit stores on Monday.