John Lewis sales surged 14.9% to £80.2m in the week to September 27 as its price matching activity drove strong trade.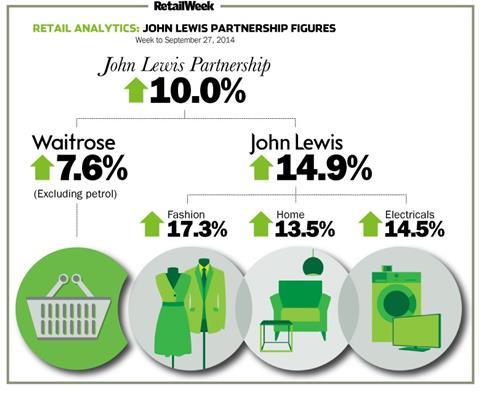 Fashion sales were up 17.3%, benefitting from the promotional activity, but the unseasonably warm weather meant that customers have not fully moved to winter season products like outerwear, it said.
However, the cooler mornings began to shift customers towards new season products, such as knitwear and cashmere.
The price match activity in fashion led to womenswear and women's accessories and beauty responding well, up 17% and 24% respectively.
Meanwhile, home had "another great week", according to online director Mark Lewis, up 13.5% with big-ticket items growing 20%.
Furniture, driven by bedroom and 'Any Shape, Any Fabric', was up 28% year on year.
In electronics and home technology sales jumped 14.5% and online sales increased 35% over the week.
Shoppers attention is now turning to Christmas, according to Lewis.
He said: "Christmas has topped our online search terms for a few weeks now and this coming week will see the Christmas shop launching in branches which should stimulate trade across both our channels."
John Lewis this week launched some key initiatives ahead of the Christmas peak.
It extended the cut-off time for Next day and click-and-collect deliveries from 7pm to 8pm, reworked the next day home delivery service with enhanced tracking and rescheduling options and improved its returns experience with better communications to reassure customers their products have been safely received and will be refunded promptly.
Waitrose sales helped by the Ryder Cup
Meanwhile, Waitrose sales jumped 7.6%, excluding petrol, to £121.8m, helped by the Ryder Cup.
A range of different promotions running, such as a third off meat joints, also boosted sales.
Pork sales jumped 37%, beef was up a 40% and there was a 53% leap in sales of lamb.
Beer sales increased by 13%, including specialty beers which soared 116%.
The unusually warm September weather saw sales of barbecue pork and sausages up 13% and 17% respectively, while ice-cream sales rose by 16%.
One eye on winter
However, Waitrose supply chain director David Jones said that customers have one eye on winter. He said: "With winter around the corner, though, customers have started stocking up on frozen goods, which were up 11.6%. Fish finger sales grew by 14% and frozen vegetables increased by 11%."