John Lewis sales soared 16.8% to £79m in its week to May 31 as footfall was boosted by the wet weather over the bank holiday and half term.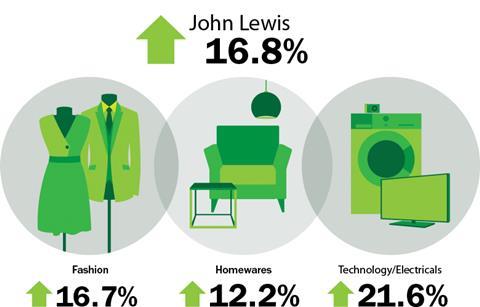 All three buying divisions experienced double digit growth over the week aided by promotional activity, with electricals and home technology leading the pack.
The division had its biggest ever week in the first half, with sales surging 21.6% on last year. Vision products experienced a pre-World Cup boost with sales up 47% over the week. However, audio and gaming sales shot up 53% helped by Bose and Sonos products.
Fashion sales jumped 16.7% as John Lewis experienced its biggest ever week on sunglasses, despite the damp weather.
Home posted a 12.2% sales rise over the week with lighting up 24%, beds rising 22% and cookshop and dining registering its biggest week of the year to date.
Ecommerce sales were also strong during the week, up 35% year on year, with fashion online sales surging 49%.
John Lewis head of retail implementation and format development Tim Harrison said: "This week the weather continued to be mixed and the build-up to the World Cup will only intensify. On Wednesday we opened our new shop in Heathrow Terminal 2. Thank you to all the partners who have helped us get to this stage and good luck to the branch team."
The mixed weather did not put a dampener on John Lewis Partnership-owned Waitrose's sales either as revenue jumped 4.2% to £119.7m.
Milder temperatures led to a rise in sales of drinks mixers, up 26% on last year, with ice sales also increasing by 5% and bottled water up by 10%.
The damper weather throughout the week provided ample opportunity for shoppers to catch up on some reading, with magazine sales up 6% on last year. In particular, sales of 'history titles' increased by 116%, as the nation prepares to commemorate the 70th anniversary of D-Day this month.
The spells of warmer weather led to people preparing their gardens with sales of outdoor plants rocketing 178%.