John Lewis sales jumped 4.4% last week, a year after the Olympics began, as the lack of spectacle freed up time for customers.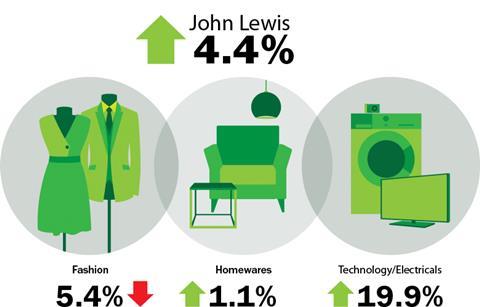 The department store said the easing of the hot weather was also beneficial as sales hit £66.1m in the week to August 3.
John Lewis' northern stores were "particularly encouraging", with a number showing double-digit growth according to online director Mark Lewis. However, the comparables of London 2012-related categories gave some of the retailer's southern shops harder numbers to beat.
Online sales soared 24% year-on-year, with electricals and home technology performing particularly well.
The retailer said increasing numbers of customers are using mobile devices to access Johnlewis.com. Visitor numbers were up 16% year-on-year, but traffic from handheld mobile devices soared 70%. Lewis said the retailer expects this to continue.
Click-and-collect continues to thrive and jumped 40% last week, with a strong uptake of collection from Waitrose supermarkets.
Although home accessories and gifts had to compete with tough comparatives because of the Olympics, other home categories were strong leading to a 1.1% sales rise in the division. Furniture sales jumped 9% year-on-year and cook and dine was up 4%.
The retailer said its fashion trade, which dropped 5.4% over the week, is in transition as its closes its end of season lines and prepares for the new season. However, toys, nursery and haberdashery bucked the trend with a 9.5% sales rise.
Electricals and home technology sales jumped 20% year-on-year with small electricals and audio imaging performing well due to seasonal trade and innovation in the market. Fans and juicers continue to do well thanks to the hot weather.
Lewis said: "Apparently the hot items are action cameras – perhaps worn by many of the thousands of cyclists who took over the London roads at the weekend."
At Waitrose, sales climbed 6% to £112.6m driven by England's Ashes success and the mixed weather.
Beer was the star performer thanks the cricket victory, with sales up 18% and world beers soaring 73%. Elsewhere cider sales sparkled, up 42%.
Despite the warmer weather at the same time last year, sun care sales still sizzled, soaring 60%, while travel accessories flew off the shelves with an 86% uplift. Barbecue sales continued to surge and were up 70% over the week.
Waitrose marketing director Rupert Thomas said: "The warmer weather at the weekend prompted shoppers to head out and visit some of the fantastic places the UK has to offer as it was another record-breaking week at our Welcome Break stores, with sales rocketing by 29%."
The sunshine inspired gardeners too, as horticulture sales grew 22% – including outdoor plant sales, which spurted 242%.
During the wetter parts of the week sales suggested shoppers turned their attention more towards the kitchen, especially to make desserts as sales of flan cases rose by 230%, meringue shells by 270% and sponge fingers by nearly 400%.