John Lewis sales jumped 14.1% to £74.8m in its week to September 14, which it finds "very encouraging for the crucial months ahead".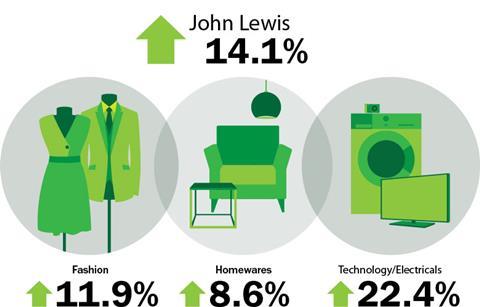 The department store said cooler weather drove sales across all three directorates as customers were attracted to the autumn newness in its stores.
It added that this was the biggest week of the half so far and it is encouraging for the crucial months ahead. Particularly promising was the consistency of performance with strong growth across EHT, fashion and home. In addition the power of bricks and clicks was apparent with shops and online both markedly ahead of last year.
Electricals and home technology sales soared 22.4% and for the second week in a row John Lewis experienced double-digit growth in all areas. Audio imaging sales surged 41.8% and small electricals jumped 32.2%.
Fashion rose 11.9% with boys and girlswear the star-performer, up 47.1% year on year.
Home had its best week of the half so far, rising 8.6% on the year. Lighting led the way as customers responded to the gloomy weather with a 26.4% sales jump. There are also encouraging signs in the big-ticket market with fitted furniture surging 23.4%. The retailer said it had "encouraging" forward order numbers in the category suggesting "more great sales" to come.
All shops beat last year with 14 branches achieving double-digit growth. Online also had a stellar week posting a 28.3% growth on last year with sales driven by increased traffic and new products launching on the website.
John Lewis buying director for home Christine Kasoulis said: "All in all, a very strong week across the board and one that emphasises the strength of the omnichannel shopping options for customers. With demand for newness and own brand higher than ever and a strong start in the key gifting areas we can feel confident about trade over the coming weeks and months."
Sister retailer Waitrose also had a good week with sales climbing 7.8% to £112.4m as customers sought out wintry food.
Waitrose supply chain director David Jones said: "A sure indication of the start of autumnal conditions is the roast-ometer, when sales of roasting joints, stocks and accompaniments soar as temperatures plummet. The weather at the weekend provided the perfect opportunity to stay in and cook a hearty meal for friends and family, with sales of beef gravy up by 105%, chicken gravy by 130%, Yorkshire puddings by 49% and service counter roasting beef by 37%."
Frozen foods were also a star-performer as with the kids now back at school, parents stocked up on quick weekday meals. Fish fingers were up 23%, scampi sales jumped 41% and chips and potatoes increased 18%.
The return of Saturday night family favourite programmes such as The X Factor also saw shoppers searching for quick and easy meals so they could spend more time in front of the TV. Sales of Waitrose's Easy to Cook range shot up by 70% and its Indian and pizza meal deals were particularly popular.
Online sales surged 49.5% with many shoppers choosing to carry out their grocery shop from the comfort of their own home.