Department store John Lewis' sales fell 3.7% to £70m last week as the autumn sunshine impacted footfall.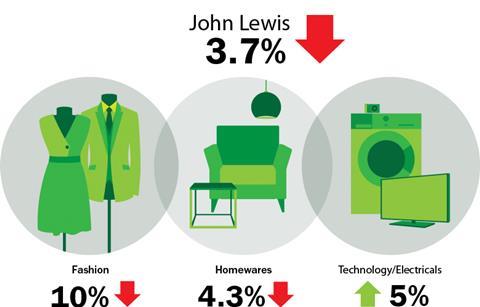 The sales dip in the week to September 28 came against a 21.8% surge last year when the weather was cold and wintry.
John Lewis said its online trade was muted against the previous week, although it was still in positive territory, with click-and-collect the star performer.
Fashion sales tumbled 10% against last year.
John Lewis head of retail change Chris Hooper said: "From a buying and merchandising perspective the week was equally mixed – after a cold snap last year, sales of classic autumnal lines this year were more hard to come by, especially around gloves and outerwear. That said, we are well placed for when the rain and cold arrives as it inevitably will."
Home sales fell 4.3%. John Lewis said the introduction of its Christmas Shop had received a positive reaction from customers and staff. Otherwise beds, bedroom and fitted furniture were the standout performers in the category.
Electricals and home technology sales increased 5% with strong performance in both small and large electrical appliances.
Hooper said: "The next three weeks look on paper to be real opportunities for sales growth, and with perhaps more autumnal conditions, and a significant team effort, we should get back to business as usual."
Meanwhile sister retailer Waitrose's sales jumped 6.5% to £113.6m.
The retailer commented that some shoppers are feeling autumnal while others are holding on to the last days of summer.
TV programme Jamie's Money Saving Meals has prompted a surge in the popularity of frozen vegetables after his cauliflower and broccoli cheese recipe recommended using frozen alternatives. Frozen broccoli and cauliflower were up by 8% and 39% respectively.
Fish sales soared last week, with smoked salmon up 98%, select farm salmon jumping 41% and cod loin rocketing 92%.
Customers have been enjoying seasonal apple varieties, with sales of the Best of British apple pack increasing by 900% since the promotion started on Wednesday. As the season progresses, the varieties in the pack will change to ensure that the apple of the moment is on offer.
The mild September temperatures encouraged some warmer weather trends at Waitrose, with juice and ice cream both up by 10% and salad up 11%.