Tesco and Walmart were unable to translate their successful business models abroad. Retail Week examines the lessons from their failures.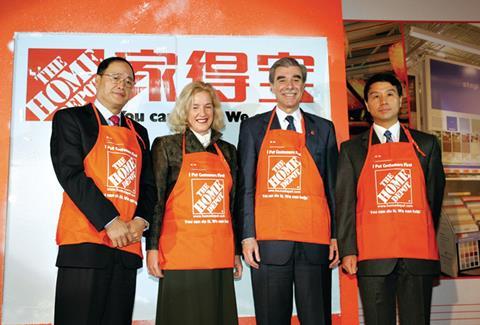 In sport, a common refrain is that no one ever remembers the losers, only the winners. Those retailers that have tried and failed to internationalise their business must wish the same principle applied to commerce. Unfortunately, when a retailer fails in an attempt to enter a new market, everyone is watching and everyone remembers.
Translating a successful business model from one country to another is a difficult task. When a retailer fails to successfully expand overseas, its rivals seize the opportunity to pick over the lessons learned so they can avoid making the same mistakes themselves.
Hence why Home Depot in China, Walmart in Germany and Tesco in the US all act as instructive examples in how not to do it.
Home Depot taught retailers the need to do their homework properly, says Bryan Roberts, retail insights director for Kantar. The US retailer's disastrous foray into China was one of the most high-profile cases of failed expansion, resulting in years of losses and an eventual retreat from the country.
"A lot of the issues that arise come from a misunderstanding of the market you are moving into," says Roberts.
"Home improvement in China is the clearest case in point. There are very different structures in terms of home ownership, the types of homes that are owned and the leeway to do things to those homes. It is strictly regulated. Hence, there are lots of home improvement retail failures in China."
Country nuances
Walmart's issue was slightly different. There is some debate about the reasons behind the retailer's failure in Germany, but most agree a combination of factors were to blame for the financial losses suffered and Walmart's eventual departure. Some were staff-related: chanting motivational slogans about the company before a shift, being expected to report other employees who were under-performing, and having opinions met with a wall of silence simply did not fit the working environment Germans were used to.
There were also issues with how the stores were run: smiling cashiers jarred with a culture where strangers aren't usually smiled at; Walmart wanted to keep customers in the store for as long as possible whereas German consumers like to shop quickly and efficiently; and putting discount products at the bottom of shelves and premium products at eye level caused much irritation, despite this being common practice in the US. All things considered, Walmart in Germany is a prime example of how to get it wrong, says Roberts.
Tesco's Fresh & Easy US venture, meanwhile, was an "unmitigated failure" that provided a number of lessons, according to Roberts. For starters, the idea of having small-format, neighbourhood stores conflicted with a car-dependent, buy-in-bulk culture among many US shoppers. Then there was the tendency to pre-pack products, meaning consumers could not test how 'fresh' the produce actually was, while self-checkouts were a technology too far for many. There were other issues too, but they all amounted to the same problem: the whole offering was simply not quite right for the market.
These three retailers are by no means alone in failing to crack international markets. Many others have been found wanting and many more will be in the future. So what makes internationalising a business so challenging?
Roberts says the degree of difficulty varies between sectors. "It appears to be a lot easier for fashion brands to internationalise, compared with other sectors," he says. "Fashions appear to be a lot more portable. You have practical considerations of course, such as sizing, but by and large it is a very standardised industry and so product differentiation is not really required."
Retaining core values
Inditex – which owns brands including Zara – says it does not change its products at all across its international operations. All eight brands offer the same range of products worldwide.
For most brands, however, what is required is for them to "flex" around their core values, according to Roberts.
That requires a careful balancing act to adapt to the host country without diluting what makes it work in the first place.
"A lot of issues that arise come from a misunderstanding of the market you are moving into"

Bryan Roberts, Kantar
IKEA has managed this balance particularly well, but the retailer's media relations manager Ylva Magnusson says it has learned from its early mistakes. "Entering the US market for instance, we realised that our vases were used as drinking glasses – thus, we had to make bigger glasses. Also, our kitchen offer was at first not adapted to the US kitchen measurements, which led to poor sales. So the range was adapted to the local needs and the sales are quite a bit better today. It is ok to make mistakes at Ikea, so long as we learn from them."
Magnusson says that Ikea stays true to its overall vision and core values wherever it is in the world. "We always live our values – simplicity, low cost, leadership based on example, respecting differences. When we first entered the French market we had recruitment ads with 'tu' instead of the more formal 'vous', which indicated that we were standing for the Swedish values of equal opportunities. The ones who liked that came to us to apply for a job."
However, Ikea mixes this overarching vision with the "flair of the local country". Magnusson says: "The range was an area where we learned the importance of listening to the customers and adapting. The way the stores are run is stated in the concept. However, good ideas are encouraged so it is not all set in stone."
International vs local
Compared with other retailers, the Ikea approach is relatively open to product changes. Superdry, for example, is cautious about requests for specific products for specific locations. "We have maintained 100% of the design and production, which is very important in maintaining the 'international' image, rather than a more local image," says a Supergroup spokesman.
"We take market feedback seriously in terms of what our partners are asking for to improve their territory sales. The requests are formally handed to design, who look to produce a more internationally aligned master product range. Doing it this way round produces a more brand-focused range of products that is suitable for international markets, rather than producing individual international 'special make up' products for each market, which can lead to confusing consumer messages."
Cosmetics retailer Lush is just as strict. "The products are the core of the business and do not change from country to country," says international support manager Simon Nicholls. "However, in terms of the amount of these products sold, we accept that some hot countries will not sell so many bath products, as the customers don't have bath tubs at home, but we expect these countries to sell a lot more shower products."
Neither does Lush make compromises in terms of its store design, says Nicholls. "Though our shop look is constantly evolving, we are constantly working with our partners on Lush best practice and visual merchandising to ensure that customers, wherever they are in the world, experience the same look and feel when they visit our shops or digital platforms," he says. "That said, we are flexible on shop sizes and we trade sympathetically with local traditions in each country."
Ikea, too, is famous for largely sticking to its 'one-way' system through the store and standardised store design.
When it comes to supply chain logistics – another tripping point according to Roberts – there is also a need for standardisation.
Lee Gill, vice-president of retail strategy EMEA at supply chain software group JDA, says: "If retailers are to achieve agility they need complete visibility of where inventory is in any point in the supply chain so they can better understand lead times."
"Deploying an order management solution is critical to help them gain that single view of network-wide inventory and customer transactions," adds Chris Maynard, senior director for professional services at Manhattan Associates. "They need this so they can make instantaneous decisions about the optimum shipping location for maximising service levels for customers and profitability for the business."
Logistical challenges
Nicholls says Lush also requires that "all systems are able to send information to Lush UK in a format that enables us to produce global consolidated reporting". Lush has had to adapt its supply chain to meet the requirements that come in.
"We have taken the decision to open more factories around the world," he reveals. "We recently opened a bigger factory in Croatia to supply middle Europe and Italy, and we will be opening a factory very soon in Brazil as we have just opened our biggest shop worldwide in Sao Paulo."
SuperGroup admits that the logistical challenges involved in serving international markets are many and diverse. "We are geared up to supply a European market and getting goods into international markets can take considerably longer due to many factors such as customs regulations, for example. It is difficult to launch a new season on time with added time to deliver to markets," says the spokesperson.
Away from product, stores design and logistics, there is more to think about. Roberts warns that an area retailers often overlook is the level of technology available to them in the back office, and what technology is suitable in-store.
"Technology can vary quite a lot," he says. "For example, free availability of bandwidth on broadband can impact how you transmit and receive information from banks or head office. In the US, meanwhile, chip and pin is only just starting. And things like RFID can be problematic, with rules on privacy different in different countries. In Germany, for example, you have to provide an option to wipe RFID tags as people leave the store."
It's clear that taking a successful retail brand from one country to another is complicated and requires extensive research. However, the rewards are potentially huge. By doing that research, or by seeking local partnerships, retailers can ease the way. By learning not just from the failures but the successes of retailers that have gone before, others can increase their chances of achieving a winning result.
Supergroup's expansion timeline
2008: Australia
2009: Venezuela
2010: Hong Kong, Taiwan, Korea, Indonesia, Dubai
2011: Kuwait, South Africa, Colombia
2012: Philippines, Saudi Arabia, Lebanon, Qatar
2013: Thailand, Malaysia, Turkey
Lush in Saudi Arabia
In 2013, Lush opened a wholly owned store in Jeddah, Saudi Arabia. The store was notable for two reasons. First, there was already a Lush store in the country, opened with partners, so the second branch was an example of Lush partners not having exclusive rights over the territory. The second reason the opening was interesting was because the store employed only women. "We wanted to open the store with entirely female staff, which was a real game-changer in this market and challenged the norm, which is why we wanted to take on that risk ourselves and show the authorities there that it could be done properly and responsibly," says Lush spokesperson Karen Huxley.