Eight people have died in another garment factory accident in the Bangladeshi capital of Dhaka, just two weeks after the collapse of a building which has so far killed more than 900 people.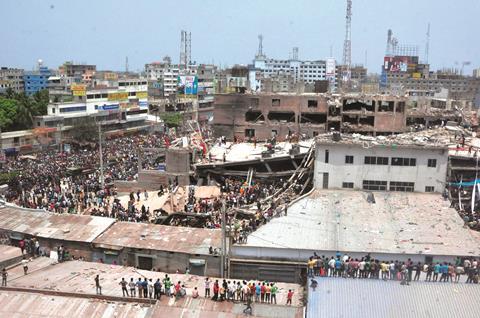 A fire blazed through the 11 storey building, which belongs to garment exporter Tung Hai Group, overnight.
The factory owner and a police officer are understood to be amongst the dead. They were believed to be holding a meeting in the building when the fire broke out.
Industrial safety is already under intense scrutiny following the collapse of the Rana Plaza building in late April. The building housed five factories which supplied retailers including Primark, Bonmarche and Canadian retailer Joe Fresh. Fire safety has been a key concern since a fire in a factory supplying Walmart killed more than 100 people last November.
The European Union is seeking to bring together major retailers to hammer out how to improve factory safety standards in Bangladesh.
Commissioner Karel De Gucht, who is responsible for trade in the EU, and Catherine Ashton, high representative of the union for foreign affairs and security policy, are in discussions with European retailers and other companies involved in the Bangladesh textile industry to stage a meeting, according to EU trade spokesman John Clancy.
Clancy said: "No date is set yet as discussions are just beginning - but clearly this is urgent and we will make every effort for such a meeting to take place as soon as possible."
The move follows the EU's warnings last week that it might restrict Bangladesh's trade privileges in order to spur improved safety standards. The country has preferential access to EU markets for its garments, under the Generalised System of Preferences (GSP) programme.
Clancy said: "The EU is sending a clear political message to Bangladeshi authorities: this situation needs to change and fast. The EU is ready to act - and experts are now looking at options including possible suspension of GSP, but this must be balanced with the need to support the economy of this developing nation."
Bangladesh is the second largest clothing producer in the world after China.
The Rana Plaza building, which housed five clothing factories that supplied retailers including Primark and Bonmarché, collapsed on April 25. It was the fourth fatal factory accident in Bangladesh in the past eight years.
Meanwhile, the Ethical Trading Initiative, which counts retailers including Primark, Marks & Spencer and Asda among its members, said it had gained lots of support from store groups for the safety code it is drawing up for retailers that source from the country.
It is set to unveil the code, which will include fire and building safety, on Wednesday.