John Lewis sales jumped 9.2% to £70.2m in the week to September 7 as customers' thoughts turned towards autumn.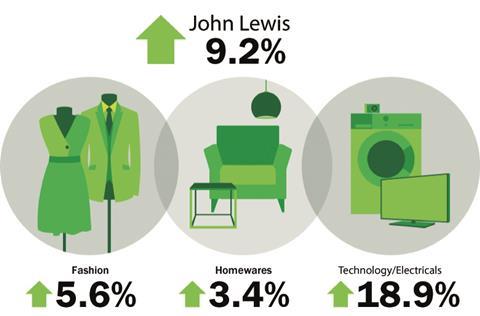 The retailer said that trade built throughout the week across all assortments ending with a "really strong" Saturday.
Electricals and home technology sales soared 18.9% with double-digit increases in all areas. Imaging sales surged 42%, and audio was up 41%.
Fashion sales rose 5.6% with outerwear soaring 30% registering the turn of the seasons. Children's shoes advanced 23% and schoolwear increased 12% as kids went back to school.
The department store also experienced a pick up in its beauty business, which grew by 12%, in part due to the launch of MAC online.
Home sales edged up 3.4% as home accessories and gifting sales rose 11.5%. Baking sales jumped 15% partially due to return of The Great British Bake Off TV show.
Online sales increased 15.8% with electricals and home technology driving the growth.
John Lewis buying and brand director Paula Nickolds said: "So, a great start for our autumn assortments. With lots of new and exciting products in our offer, competitor price matching this week and stocks building well, we have a great opportunity to build momentum in our sales line. Good luck and happy trading."
Meanwhile, Waitrose sales increased 9% to £115.3m over the week, boosted by The Great British Bake Off, a weekend of sport, the return to school and the onset of colder weather.
Online sales soared 50% year on year.
BBC series The Great British Bake Off once more inspired the nation's bakers. Home baking sales rose by 17% as free range eggs had a cracking week, up 13.5%, and sugar sales shot up by 21%.
In a good weekend for sports fan with a World Cup qualifier on Friday followed by the England cricket team continuing their summer long battle with Australia and the Italian Grand Prix, frozen pizza sales were up 13%, frozen chips increased 17% and world beers were also up "significantly".
Waitrose marketing director Rupert Thomas said: "The arrival of the colder weather had a notable impact, as sales of spirits really warmed up. Malt whisky sales increased by more than 50% on last year, imported whiskies were up a staggering 60% and brandies up by nearly 54%. However, some shoppers clearly haven't given up on the summer just yet as Pimm's sales still leapt by 33%."