Taking offers to where the people are could be the new way of ensuring that your proposition is not overlooked. John Ryan reports
These are parlous times for high street and shopping centre retailers. High street stalwarts such as Topshop, Boots and Marks & Spencer are looking to shut up shops and there's a mass of troubled traders lurking just below the waterline.
One of the inconvenient retail truths is that there are still too many shops, and in a lot of cases they are clustered together in destinations to which many shoppers are increasingly reluctant to travel.
The question has to be whether there is another way of doing things, other than endeavouring to sell more online?
One possible answer when faced by a present in which consumers would rather shop via their phones or laptops is to take the shop to the customer, rather than the other way around.
This can apply as much to online outfits that have taken the plunge and entered retail's physical fray as to hardcore bricks-and-mortar businesses. A place remains for stores, but it might just be that making shops more mobile could contribute to an improved outlook for those wondering what to do next.
The truck
Operating in the UK since the beginning of last year, Amazon's Treasure Truck is about taking deals to the people.
The name describes the activity. Amazon's brightly coloured truck (a bit like a travelling circus), designed by consultancy Household, is now in 16 cities in the UK.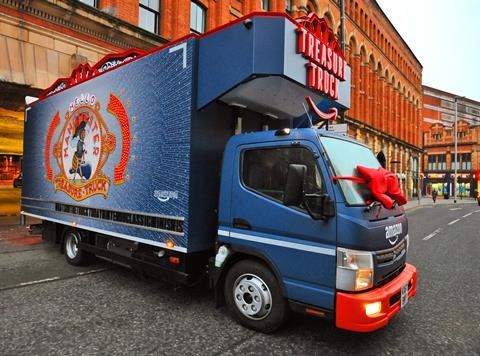 Amazon Treasure Truck's UK country manager, Suruchi Saxena Bansal, says: "[The truck] stops at various popular areas across these locations so that customers can choose a convenient time and location to pick up their product."
The truck acts as a store that can be shopped using the Amazon app, and the products are changed on a daily basis with a heavy emphasis on 'deals'. Bansal adds: "We're combining limited-quantity products and great deals with a unique experience and convenient pick-up points."
Amazon has also launched kiosks operational since June 5th. These are pop-up shops that operate on the same lines as the Treasure Truck but which are located in areas of high footfall, principally major transport hubs. Bansal says the aim is to capture business on the "daily commute".
The mobile shop
US retailer B8ta sells the most cutting-edge electricals (beta products, geddit?) and its 16 stores act as places where shoppers can try this innovative tech out.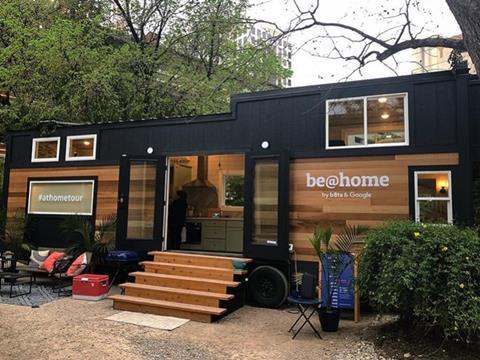 In spring this year, it partnered with Google to create a truck bearing a close resemblance to one of those massive mobile homes found hitting the road in some of the US' more remote parts. The aim was to bring its pioneering products to a wider audience.
'Be@home' was in fact a stained-pine two-floor mobile home that visited cities in the western US in March and April containing products that "work together", according to B8ta, and which was about showing how the connected home would work.
With everything from a robot vacuum to an 'iKettle', this was a mobile cavalcade taking novelty to shoppers, in spite of the fact that B8ta now has outposts in department store chain Macy's, which acquired a minority stake in the retailer last year.
The US is a vast country and B8ta takes a state-of-the-art offer to those who might not normally encounter it. This is symptomatic of the manner in which retail is headed in some quarters.
The service
The point about bike shops is that once a bicycle has been sold, it is relatively likely that it will come back to the shop at some point to be serviced, repaired or perhaps even upgraded.
The solution dreamt up at Halfords-owned Cycle Republic has been to turn an 'e-bike' into a mobile workshop and then send it out to where it is needed: the workplaces and offices of those who use their bikes daily.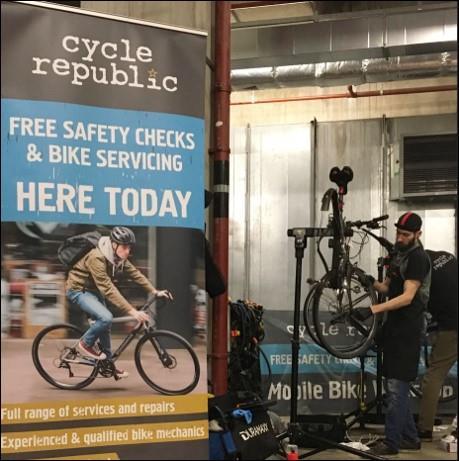 Cycle Republic central operations manager Carl James explains: "We operate in 20 buildings around London, from the West End to Canary Wharf, on fixed days each month. You can drop your bike off at the beginning of the day, and when you're ready to go home, your bike will be waiting for you."
James says this initiative was customer-driven. "If they ride their bike every day then being without a bike for one or two weeks really isn't good enough. Our e-bike service was customer-driven and it was space-driven, because in some cases we didn't really have room to store bikes that we were working on in our shops."
These mobile temporary fixing stations also spread the word about Cycle Republic across London. The ability of a cycle shop to take its message beyond its premises can only work to the benefit of the physical stores.
Luxury for the masses
Luxury retailer Dior may well have a presence in the most-affluent of cities, but with just over 200 stores worldwide many places miss out.
With this in mind, the French luxury house has created a transportable menswear shop composed of two joined metal capsules and, outside the store, a shiny female nude that looks like a Jeff Koons sculpture.
This is clearly a temporary affair, and the first location it has made landfall in is Washington DC with more US cities set to follow over the summer.
Dior will not have the same measure of ubiquity that the mid-market chains command and this is certainly one way in which the offer can be taken to those who might want it.
The kiosk
Opened in June, Unboxed from Singapore phone network Singtel is an exercise in raising brand awareness while providing an experience… in a kiosk.
This one measures just 45 sq m, has a fascia that is shaped like a mobile handset and will be doing the rounds in a number of locations across Singapore this summer. From new SIM cards to paying bills and on to picking up a pre-ordered handset, the store uses facial recognition linked with an app to make things work for its shoppers.
There are no staff, but for those in search of information, there are robot terminals where the curious can find out what needs to be known.
As well as being about retail on the move, this perhaps affords the visitor a small glimpse of what lies ahead in the world of the unmanned store.
The ultimate convenience store?
Founded in 2017, MobyMart is a Chinese-Swedish enterprise consisting of static stores that can be put on trailers or trucks and taken to where they are needed.
These are automated, staff-less stores (of the smartphone scan-and-go variety, with payment being deducted from the shopper's account via the app).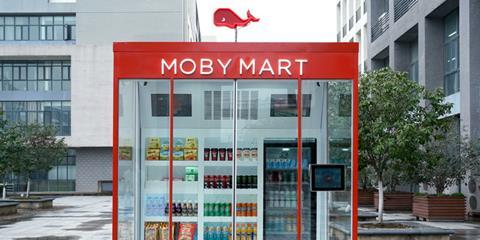 When MobyMart was first set up, the idea was that the 'stores' could be sufficiently mobile to turn up at a shopper's home or office once a product had been requested via the app.
Two years down the line, this remains a pipedream.
It may not be the on-demand store that was first imagined but the concept is being rolled out.
There are five stores open in and around Shanghai and a few that are beta-testing in Sweden. MobyMart tells Retail Week that it will soon launch 10 more stores in Shanghai and a similar number in Europe.
It has also sold stores to Scotland and Portugal, that will be operational later this autumn.