After its recent acquisition of 31 Wyevale Garden Centres made Dobbies the biggest garden group in the UK, Retail Week visits its new-look destination store in Edinburgh to talk to boss Graeme Jenkins and chair Andrew Bracey about their vision for the business.
Even on a rainy midweek day, Dobbies' car park in Lasswade, Edinburgh is jam-packed with customers.
At 55,000 sq ft, the new-model store not only sells everything that might be expected from a garden centre but has been curated to include several ranges from brands such as Hotel Chocolat, L'Occitaine, Joules, Booths, Cook, Nespresso and even a local butcher.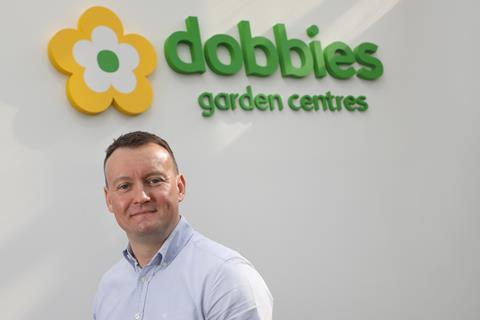 The store also has an onsite restaurant that has the feel of a local café and serves homemade food.
There are plans to extend the food offering in a dedicated space with a street food truck, live music events and neon decorations to appeal to a maturing millennial audience who are becoming more interested in gardening and home improvements.
Chief executive Graeme Jenkins took over less than a year ago, and along with chair and owner Andrew Bracey – whose investment firm Midlothian Capital along with Hattington Capital and other investors acquired the garden centre chain from Tesco in 2016 – has brought fresh ideas which have "transformed the business".

"Yes, there's a macroeconomic uncertainty, but do we see it translating through to our customer? Not really"

Graeme Jenkins, Dobbies
Prior to Jenkins taking the helm, Dobbies had two chief executives within 18 months. Garden centre veteran Nicholas Marshall replaced previous boss John Cleland (who left for personal reasons just nine months into the role), but only stayed a year.
The retailer's pre-tax profit fell 35% to £5.1m in its most recently reported year to February 25, 2018, mainly a result of one-off items during the period.
Things seem to be on the up, however. Dobbies registered an 8% uplift in like-for-likes over the Christmas period last year, when total sales increased 21% to £24.1m.
Jenkins is confident that Dobbies is moving in the right direction.
And even in times of low consumer confidence, Jenkins says the garden centre sector weathers political uncertainty "pretty well".
"Last year's footfall was up high single digits. Excluding the impact of the beast from the east, like-for-like sales were up low double digits, so yes, there's a macroeconomic uncertainty, but do we see it translating through to our customer? Not really.
"I think because a garden centre is still a nice place to have a day out and it's more than just going shopping, it does weather uncertainty in whatever form it comes."
The intention is to build it into what Bracey describes as a "classless leisure destination".
Growth strategy in bloom
Dobbies is now following a five-point strategy: to differentiate its retail offer, evolve its hospitality and restaurant offerings, expand through acquisitions and new locations, establish an efficient platform to support that growth, and maintain a strong balance sheet.
In order for performance to bloom, a variety of measures have been taken.
A new food hall, cookshop and pet ranges were launched this year and they continue to outperform targets across the whole store portfolio.
"The introduction of new ranges and formats, the work we've started on with improving the hospitality, and the restaurant offer, have all been exciting stuff," Jenkins says.
"Our whole ethos is about taking customers' feedback – customer feedback is paramount"

Graeme Jenkins, Dobbies
The new restaurant format is being piloted in Edinburgh, Cirencester and Dunfermline. Both Edinburgh and Cirencester are registering double-digit order value growth.
Customers can choose to take a break on a sofa with a cup of tea and a cake or take their time in the 'sit down' restaurant that offers table service and a wider menu.
The hospitality arm's success has been bolstered by the introduction of soft play areas for children and a dedicated section for customers and their dogs.
"Garden centres are traditional places and I think as retail and as leisure is evolving – because we're as much a leisure destination as we are a retailer – taking people on that journey of change is always going to be the most challenging, be that the customer, the team or suppliers.
"Our whole ethos is about taking customers' feedback – customer feedback is paramount; we do a lot of customer listening groups and research.
"We adapt, we curate ranges on the back of what they say, and we change how our service works on the back of what they say, so that's been the driving force," Jenkins says.
From customer focus group feedback, for instance, Dobbies has started rolling out lower-level product shelves that make it easier for customers to shop.
And the quality of the restaurants' most popular dishes has been improved and new options added.
Planting seeds
Bracey says the business has a "defined network plan" for the future, but that doesn't include an ideal number of stores.
"Most of the stores on average turn over about four and a bit million. It's more about where, rather than number [of branches] and are we filling in the network in a sensible way.
"Ninety per cent of customers come within a 30-minute drive time so that quite neatly allows us to set some sensible boundaries to do that."
With a small branding refresh – the pink flower on Dobbies' signage is now yellow – the retailer has its sights set on grabbing more of the market share.
"The sector is still a consolidation opportunity, there's still 70 of the top 100 garden centres in the country that are independent and what they want to do in the future could be an opportunity for us.
"The opportunity is there and as long as we keep doing things in a sensible way like we're doing today, be that the funding or the running of the business, we should be capable of doing that," Jenkins adds.
The garden centre market is worth around £6bn and Dobbies has £300m of that.
Jenkins and Bracey are confident they have planted the seeds to be able gain more share in the coming years.
"I think taking the new format national by the recent acquisition, and further acquisitions in future, could the business double and double again," Jenkins says. "Yes, why not?"
As change continues at Dobbies, Jenkins believes that performance is only likely to blossom from now on.