The furniture and homewares group has changed to adapt.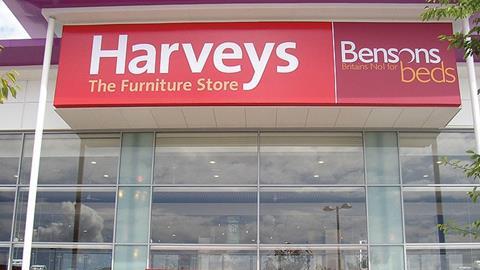 As the number of homeowners hits an almost 10-year low of 66%, it looks like trading conditions for furniture retailers will remain difficult for the foreseeable future.
Steinhoff UK, the umbrella company for Harveys, Benson Beds, Bed Shed, Reid Furniture and Cargo, has been hit by the difficult times, taking a hit on pre-tax profits in the year to June 26, 2010 when they plunged 19% to £26.7m. Gross profit margin declined from 54.6% to 50.5%. However, turnover rose 14% to £468m, due in part to the acquisition of Reid Furniture in 2009.
Under it previous ownership the company had already hit difficulties and was labouring under a large debt pile by the time that, as Homestyle, it was bought by South Africa-based furniture manufacturer and retailer Steinhoff in 2005. Steinhoff initially took a 60% stake of the business for £100m but took total control in late 2006, buying out smaller investors.
The deal enabled the retailer to hive off £86m of debt it had racked up since a number of acquisitions over the late 1990s across the home sector, including Harveys, which was the largest acquisition, Bensons for Beds, Sleepmasters, The Bed Shed, Brentfords, Knightingales, Homestyle, Fads and Fabric Warehouse.
At its largest, the group was operating 950 outlets from 700 stores in 2003/04 before it was bought a year later.
Many 'non core' businesses were sold off before Steinhoff acquired it, dramatically reducing the group's size, and allowing it to narrow its focus to furniture and beds.
Rosebys was among the chains disposed of, sold to management in May 2004 for £41m, reducing annual turnover by a third.
Steinhoff UK management has brought a more vertically integrated model to the business as it takes advantage of the group's ownership of the manufacturing operations for Relyon, one of the larger bed suppliers. Steinhoff UK also owns several mattress brands, strengthening margins in the business.
After the acquisition, Steinhoff UK bedded down quickly, changing the furniture division to trade entirely under the Harveys fascia, and shifting its focus from the mid to upmarket to a more value-driven mid-market emphasis, while relocating the majority of stores to retail parks by mid-2005.
It continued to rationalise property portfolio, adding 40 stores and concessions to its 436-strong beds division in 2006, but closing more than double that in the same year. Additionally, across 2010 and 2011, Steinhoff UK targeted more store closures, particularly those shops with onerous leases.
Store numbers have levelled out at 416, down from 624 in 2010.
Steinhoff also halved the number of its Reid Furniture stores following its decision to quit Ireland in 2010 after acquiring the business in 2009. Reid now has just 13 stores in Scotland.
An organisational restructure last year drove more changes. Steinhoff UK was split into three independent divisions – beds retail, which comprises Bensons for Beds, Sleepmasters and Bed Shed; furniture retail, which includes Harveys and Reid; and homewares business Cargo.
As part of the restructure, Steinhoff UK chief executive Ian Topping became chairman of the group's manufacturing division, while Benson for Beds boss Bill Carrahar left and later took up a position leading Carpetright's fledgling beds business.
Meanwhile, the managing director role at Cargo has been filled on a temporary basis by Paul Burk after former managing director Clive Gilbert's recent departure.
The Steinhoff UK head office was also relocated in Gloucestershire from Tewkesbury to Cheltenham as part of the restructure.
Steinhoff directors will be hoping that streamlining the store portfolio and restructuring the organisation will provide the UK division with a cushion as it seeks to trade successfully through the downturn.
Home run
UK managing director for the furniture division Stephen Campbell
UK managing director for the beds retail division Alan Williams
Cargo managing director Paul Burk
Brands and fascias Bed Shed, Bensons, Cargo, Harveys, Reid, Sleepmasters
Harveys heads for value
Steinhoff's restructure of Homestyle has resulted in a more integrated supply chain, meaning the Harveys brand, which sells beds, sofas and dining room furniture, could be redefined to a more value-led retailer.
To push such credentials, Steinhoff has been pumping more money into its marketing budget, raising Harveys' profile and taking it head-to-head with the third largest retail TV advertiser, DFS, and Dreams, also a big spender in advertising.
Harveys began sponsoring prime time television soap Coronation Street in 2007, ramping up its profile among its key customers. Steinhoff believes sales have increased as a result of the raised awareness.
More marketing initiatives have come in recent weeks, when it launched an app which allows users to 'test drive' sofas in their own homes, by superimposing products on their phone's screen to view the product in any given space.