Iceland has posted a rise in full-year sales and profits as its business improvement programme delivered results.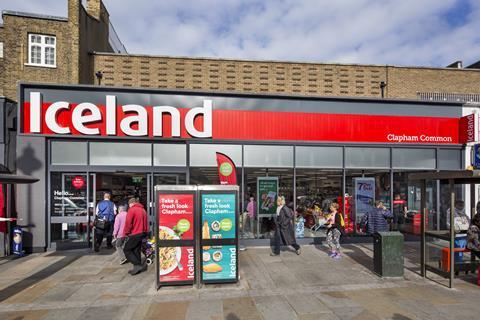 Iceland reported adjusted EBITDA up 6.3% to £160m on sales ahead 4.4% to £2.79bn in the year to March 24.
Like-for-like sales advanced 2% over the year, rising to 4.9% in the final quarter.
Iceland founder and chief executive Malcolm Walker said initiatives such as overhauls of Iceland stores, more openings of Food Warehouse shops and the 'Power of Frozen' marketing campaign had all helped performance.
He said: "The set of strategic initiatives we began in 2015, with the aim of differentiating Iceland, changing consumer perceptions and so restoring growth to our business, bore fruit.
"Like-for-like sales performance improved throughout the year to make us one of the UK's fastest-growing food retailers by the year-end.
"We increased the pace and enhanced the quality of our new product development and opened a new £2m development kitchen at our head office in Deeside to drive further improvement."
'Value credentials'
He added: "At the same time we reinforced our value credentials through a programme of outstanding value deals, made our stores more relevant and accessible to customers by extending and standardising their opening hours, and continued to open profitable new stores under both The Food Warehouse and Iceland fascias.
"After a record Christmas, Iceland ended the financial year with its best-ever product offer, strengthened management, high morale and growing confidence in our ability to achieve continued growth by simply being ourselves:
"A unique British business focused on high-quality, innovative and exciting food, with a real commitment to contributing to the communities in which we operate."
He said Iceland has made a "solid start" to the new financial year and he was "confident of our ability to achieve further benefits from the strategic initiatives we have in place".