Christmas demand soars for retail's multichannel services such as click-and-collect and speedy delivery as consumers increasingly take advantage of the different ways to shop.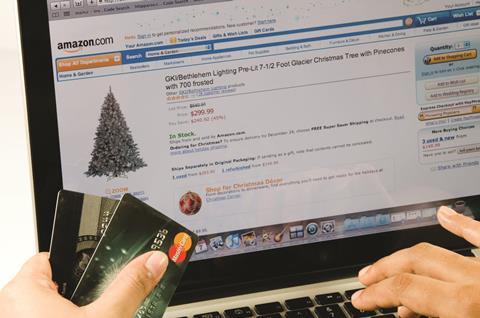 Christmas 2012 has been heralded as the year that multichannel retail came of age as department stores emerged among the festive period's big winners.
Debenhams, House of Fraser and John Lewis all led the online surge, and posted soaring digital sales over the Christmas season. Debenhams boss Michael Sharp said the sector was benefitting from the multichannel revolution.
He said: "The winners in multichannel retailing will be department stores and large-choice retailers. Department stores are very appropriate and relevant in the multichannel world where customers are looking for the widest choice and lots of ways to shop."
Debenhams' ecommerce sales jumped 39% in the 18 weeks to January 5, while House of Fraser's soared 48% and John Lewis' digital revenue rocketed 44.3% over Christmas.
The British Retail Consortium KPMG Retail Sales Monitor showed online non-food sales soared 17.8% last month, the fastest growth since December 2011, while retail like-for-likes were flat at 0.3%.
The trade body said the channel played a "disproportionately" larger role in driving sales across non-food.
BRC director general Helen Dickinson said: "Online was the stand-out performer. Shoppers are increasingly taking advantage of the convenience that online shopping offers at every stage of the customer journey."
Click-and-collect and speedy delivery played a key part in multichannel's growth.
Johnlewis.com sales broke the £800m milestone during December, driven by click-and-collect, while 60% of Sainsbury's general merchandise orders were collected in store in its third quarter.
John Lewis managing director Andy Street said: "We prepared for a bumper online Christmas and continued click-and-collect right up until Christmas Eve."
Sainsbury's chief executive Justin King said: "Click-and-collect is bigger than it's ever been. Online is a growing channel but the ability of customers to be able to mix and match between online and physical stores remains key."
Next, which heavily promoted its next day delivery on online orders made before 9pm, also fared well as Directory sales surged 11.2% over Christmas.
Fashion retailers also experienced an online boom as New Look ecommerce sales soared more than 50% and Fat Face's rose 65% over the festive period. Fat Face chief executive Anthony Thompson said: "Ecommerce came of age at Fat Face this Christmas. The growth and volume took us by surprise."
Sainsbury's reported that its online business showed growth of more than 15% in the quarter and in its busiest week it delivered 200,000 food orders.
Despite the surge, online suffered some woes. Etailer Play.com, owned by Japanese giant Rakuten, is closing its direct retail operation. Jersey-based Play.com said it was a result of the government's removal of Low Value Consignment Relief last year, which allowed items less than £15 to be sold to the UK VAT free. 147 staff will be made redundant when the retail business closes in March, and instead it will focus on its marketplace.