The 2012 Games involved a monumental logistics task. Anna Richardson Taylor speaks to Mick Wright, the former retailer in charge of the project.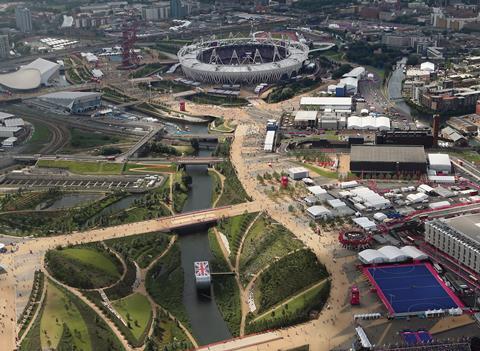 It's been just over three months since the London 2012 Olympic Games started in the capital. And with the Games universally deemed a success, one former retailer is preparing to wrap up the key part he played in it.
"We started off with just me in logistics, we grew to 1,350 people, and we'll finish with just me," says Mick Wright, head of logistics at the London Organising Committee of the Olympic Games (Locog).
Wright is the former head of distribution at Woolworths-owned Entertainment UK, former vice-president of processing and distribution at TK Maxx, and also held logistics roles in other entertainment businesses. In fact, it was Woolworths' demise at the end of 2008 that prompted Wright to apply for the Locog job – if he hadn't been in the process of winding up its operations, he would never have considered taking on what must have seemed like the most daunting role in logistics.
Pressure to deliver
But following an intense – as well as enjoyable, he says – interview process, Wright was offered the job, to his delight, and took up the role in May 2009. He has no doubt that his previous career, forged in the pressure cooker of retail supply chain operations, played a pivotal part in securing the post, and executing it smoothly. "Having a retail background helped," he says. "At TK Maxx, for example, we were in a growth period where I was taking on lots of new people and opening new sites, so I had experience of setting up new organisations as well as other change management experience."
Tasked with setting up a logistics and supply operation from scratch for the Games, Wright's remit was vast.
His team had to work with all the National Olympic Committees, international press and broadcasters, caterers, cleaners and retailers in more than 180 venues; it had to move medals, anti-doping samples, receive athletes' luggage, transport 375 horses, open three warehouses to handle equipment and fulfil countless other tasks. As Wright puts it, if you tipped the venues upside down, everything that fell out, apart from people, was his team's responsibility.
"I used to have a full head of hair and I'm bald now," he jokes, and even though he believes nothing could have prepared him for the enormity of the job, his retail experience equipped him with invaluable skills.
"Retail is definitely a good training ground. In many respects there are a lot of similarities between retail and the task we faced at the Games – from having demanding clients to servicing 180-plus venues, which is like servicing stores," he says. "If you've done it in retail, you're used to being in the trenches, having a lot of pressure on you and needing to deliver, with pretty limited resources. You're focused on service and cost, and not on one to the exclusion of the other – that was a particularly important ethic that we tried to drum into our people. The job wasn't for the faint-hearted and in my experience working in retail isn't for the faint-hearted either."
The biggest challenge of the project was building the organisation from scratch and finding the right people. "The only thing I ever lost sleep about was whether we could get the right people," says Wright. "I could tell you that the biggest challenge was finding temporary warehousing, implementing an IT system to monitor the whole operation, I could say it was understanding the needs of the clients. But the biggest question was, could we find the right people, in the right numbers, could we get them clear on their objectives, could we train them and get them up to speed in time."
Lessons for retail
Unsurprisingly Wright drew on his network of retail contacts to bolster his team – former Entertainment UK colleagues Jose Dhooma, Richard Trace and Shaun Day joined him as operations manager, materials planning manager and lead venue logistics manager respectively, while official Paralympic sponsor Sainsbury's Mick Bromley, who is a manager at the grocer's Basingstoke depot, was seconded to the team.
But just as Wright brought his retail know-how to the Locog table, some of the initiatives developed by his team offer lessons to the retail industry. For example, together with the Freight Transport Association, Transport for London, the Noise Abatement Society and retailers such as Marks & Spencer, the team championed quiet night-time deliveries, which "were very effective", says Wright.
It also ran a demonstration project using the Thames to move merchandise on barges, which could potentially entice retailers to use the river more in the future.
Another key lesson was on collaboration – a focus that is a growing priority for retail supply chain directors. "Collaboration is essential," says Wright. "In terms of our relationships with key suppliers, such as UPS, we truly partnered with them. If you walked around my office at any given time, you wouldn't have known who was from Locog and who was from UPS, for example. We set ourselves a very distinct target that we wanted to be one team, and we tried to achieve that with a lot of other suppliers as well. Having a partner that we could share everything with – the pain and gain – was pretty important."
So thanks in part to retail training and a focus on teamwork and collaboration, the Games went by without any apparent hitch. "We will have travelled enough mileage to go 40 times around the world – if you're Tesco or Sainsbury's you probably do that every day, but given that this was a temporary supply chain, that's pretty impressive.
"We will have done around 17,000 deliveries of our own, and facilitated the best part of 50,000 deliveries during the Games. We will have handled nearly 30 million items – and that number is only Locog items, not catering, technology, sports equipment and so on."
Wright's contract comes to an end in December, and he is now considering a number of options as he looks for the next challenge. So will he return to retail? "Once you've been in retail you will always be fond of it," he says. "It depends on your mentality, but if you thrive on a challenge you will always be interested in retail."
As for so many individuals involved with the Olympics, Wright's experience was a once in a lifetime opportunity, and he is already winning awards for his efforts (he was recently recognised by the Chartered Institute of Logistics and Transport). But as the industry that moulded the talent that delivered the Olympian task, retail surely deserves a gold medal of its own.
An experiment on The Thames
Sustainability was a critical focus of the Olympic delivery organisation, and given that Locog's main warehouse was located in the Port of Tilbury, Essex, trying to use the waterways for delivery was worth exploring, says Mick Wright.
With support from the Port of London, Port of Tilbury, Transport for London and official logistics supplier UPS, Wright's team developed a unique demonstration project. "We were determined to demonstrate how the river can still be used for merchandise – it gets used a lot for aggregates and waste, but not merchandise," explains Wright.
The project used four barges along the Thames, from the Port of Tilbury to Northumberland Wharf, which is a few miles from the Olympic Village. In the future, the use of barges could help to alleviate capacity on London's road networks, and Locog will publish a paper on the details of the project next year. Wright hopes that other organisations, including retailers, will consider using the waterways again.
"Hopefully some retailers might look at the demonstration project and get interested in exploring the river further," says Wright. "We can give people some insight into what is possible and what the challenges are. It's difficult if you are trying to move low volumes, but if you get sufficient momentum, it makes it worthwhile, as cost inhibitors start to get stripped away."