Twitter's 'buy' button allows customers to make purchases directly through the social media website, but will customers use it?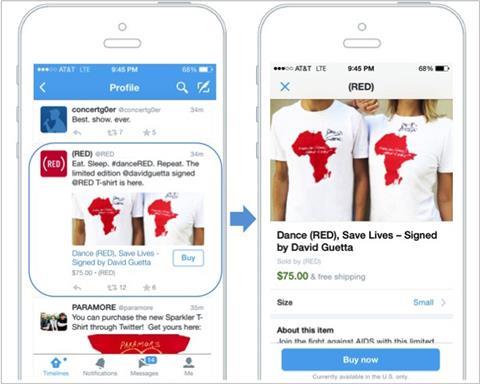 Retailers including Burberry have signed up to a trial of the 'buy' button feature, which the social network hopes will allow it to broaden its revenue streams beyond advertising to ecommerce.
Forrester principal marketing and strategy analyst Thomas Husson says: "Social commerce is already established as a great way for customers to discover new products and brands, but it's not a key part of the purchasing stage at this time.
"One of the challenges for Twitter's 'buy' button will be in changing that perception."
He says that as well as needing to establish itself as a sale platform, Twitter will need to create confidence in its 'buy' button as a secure and non-invasive way to both make purchases and sell products.
"Twitter's payment button has to be endorsed as both trustworthy and more convenient than other ecommerce options available for both consumers and retailers in order to succeed," says Husson.
Social commerce competition
Twitter group product manager Tarun Jain published a blog regarding the trial of the 'buy' button in which he says: "we built this test experience with [users'] trust and security at the forefront".
But with so much competition, is Twitter in the best position to monopolise on ecommerce?
Husson says: "Twitter has established itself as an important social media platform and public broadcasting mechanism, but competitors such as Facebook and WeChat may have more success in building trust for commerce and epayment platforms."
Twitter's popularity as a news source could mean that becoming a social commerce platform may not sit well with some of its users.
In contrast, competitors like Facebook that are used more exclusively for socialising may find more success as a digital retail platform.
If successful, Twitter's 'buy' button would allow the website to close the loop between being a site where consumers discuss products and retailers advertise them to one where actual purchases are made.
And that would be lucrative for retailers and advertisers alike.