Christmas is a time when retailers need to dazzle, but problems can arise unexpectedly. Laura Heywood reports on
the logistical essentials key to meeting customer expectations.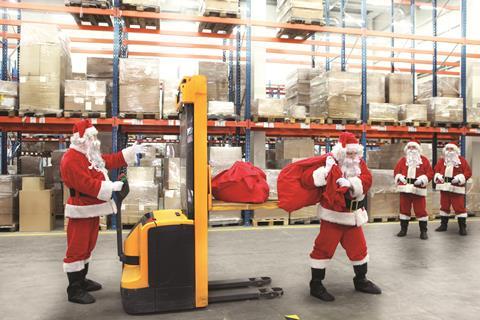 Christmas can be make or break for retailers, and with so much riding on getting it right, there's no such thing
as over-planning.
Come September, Christmas ranges will have been chosen and orders are on standby ready for the festive frenzy, but how do retailers prepare for unforeseen glitches or full-on meltdowns in a meticulously planned supply chain?
Putting robust contingency plans in place should be top of the agenda for retailers preparing for Christmas.
That's according to Paul Doble, director of logistics firm DX, who knows only too well how damaging delayed or failed deliveries can be to retailers' Christmas profits.
"It's inevitable that some issues - whether minor or major - will occur at some point during the Christmas trading period. However, the winners will be those that maintain open lines of communication with both customers and suppliers, and ensure any delays or changes to scheduled deliveries are clearly communicated," he says.
One of the biggest threats to successful delivery is winter weather. As Doble points out: "With adverse weather, in particular snow, making the UK's roads dangerous, and at times impassable, it's essential to have fool-proof contingency planning in place which considers how to communicate with the customer if delivery failure is likely."
Communicating cut-off dates to consumers is crucial, Doble emphasises, especially given the mounting number of consumers "that still seem to think that ordering on December 22 is somehow 'not too close to Christmas'". "When it comes to Christmas delivery times, this is not a time to be subtle: retailers should put a bright, bold banner at the very top of the home page in order to highlight these issues very clearly," he says. Accurate forecasting should also be high on retailers' logistical planning agenda, believes Dale Fiddy, sales and marketing director at distribution specialist NFT. "Due to the high demand for everything at this time, if the retailer's forecast is out by, say, 25% below actual requirements, the ability of the manufacturer and logistics provider to make up this deficit at the time is almost impossible. This is due to the fact that products are often produced way in advance to build up stock, with factories operating at full capacity during this time," Fiddy says.
Add to this that transport vehicles are booked up to three months in advance, so at peak trading there is little or no spot hire or subcontract capacity in the market, and forecasting and contingency planning become even more critical.
Get in line
In the store, the perennial problem of queuing can also have a detrimental impact on retailers' Christmas revenues if they fail to plan ahead.
A recent study of 1,344 UK consumers by business services provider Omnico found, on average, Brits will wait 5 minutes 54 seconds in a shop queue before they walk out. "Retailers that focus on preventing abandoned baskets and customer walk-aways will see the compelling benefits to their bottom line," says Omnico chief executive Bill Henry.
At stationery and card specialist Paperchase, mobile point-of-sale technology is deployed, enabling mobile tills and allowing staff to reduce queue lengths and duration. "It also frees sales assistants up to move around the store and answer questions, or move to areas that are busiest," Henry says.
Santa's helpers
Scheduling appropriate staffing levels is another vital logistical element to consider when planning for the Christmas shopper onslaught, according to Tony Knight, business development director at management software company Workplace.
A workforce management tool can help retailers analyse a store's historical performance, such as sales and average basket size from previous Christmases, in order to ensure the appropriate level of staff can be scheduled during the peak, Knight says.
"Retailers should plan their staffing levels according to the forecast workload for each week, then down to each day and then down to 15-minute intervals to maximise the potential of the store. Too few staff can result in inferior customer service, extended queues at checkouts and delayed replenishment, resulting in lost sales. Too many staff at certain times of the day results in unnecessary costs," he adds.
Retailers also need to start thinking about upping customer support staff from mid-October through to January.
Adam Stewart, marketing director at Rakuten's Play.com, says: "Customers are increasingly expecting real-time responses from brands when they get in touch and through the channel that they choose, be that on the phone, through Twitter or Facebook. It's vital retailers have a modern customer service proposition across all appropriate channels that allows customers to interact on their own terms."
At the pure-play etailer, staffing at its UK-based contact centre will increase from 35 members to about 150 during the Christmas selling period.
Whether it's expectations of first-rate customer service, reduced queuing time, quick delivery or availability of best-selling lines, customers continually want more at Christmas. If snow means a failed delivery or flu means too few staff, shoppers' responses will simply be to take their custom elsewhere. Never has contingency planning been more critical to a retailer's bottom-line.
Online oomph - making the most of mobile
Hailed by Experian as "exceptional for online retail", Christmas 2012 recorded more visits to mobile retail websites (up 135% on 2011) and more hours spent shopping online than ever before - and Christmas 2013 is predicted to be just as groundbreaking.
"December 2013 will set new records for retail visits, with 3.3 billion visits predicted to go to shopping websites," forecasts Experian's Christmas Retail Review 2012, meaning mobile optimisation is crucial.
Ann Summers chief executive Jacqueline Gold says: "The mobile optimisation of our ecommerce site has been key for us as more and more consumers use mobile technology to shop - something that is only going to increase."
The growth of shoppers browsing or buying on smartphones and tablets has led the lingerie retailer to develop its buy-and-collect offer in an effort to fulfil more orders. "We know that customers are browsing on their phones or online before they visit the store, more so than ever before, and the way they want to shop is constantly developing.
An easy shopping experience, with a wide product offering and availability as well as delivery options for the customer ensures those expectations will be met," Gold says.
For Gold, "mobile optimisation, enriched content and a significant improvement in customer navigation" mean customers can benefit from an enhanced online shopping experience and easily move between Ann Summers' various touchpoints.
Maintaining a fast website and quick loading times can also be a big win for retailers at Christmas. "Look at past order histories and attempt to understand how consumers are purchasing on your site and then optimise your site to fit in with these behaviours, ensuring your site can technically cope with a rise in demand around certain products or in line with promotional activities," says Mark King, EMEA channel lead at web hosting provider Peer1 Hosting.
It is also important to have a multi-screen strategy, with unique content created for each screen.
"Mobile users purchase differently from those on tablets. Your content should be interesting, innovative and relevant.
Monitor what consumers are browsing and purchasing, and sort your website accordingly; place the most popular product on the home page," King adds.
Mature mobile payment applications, such as PayPal, are also key to securing sales. Done right, in-store mobile payments can speed up payment and cut queues - both fundamental to coping with the in-store festive melee.