Asos found itself in hot water this week when it compared former bodybuilder Jodie Marsh to a man on its social media account.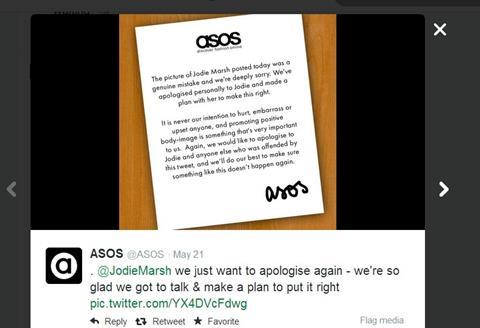 Marsh herself was one of the many who took to Twitter accusing the online fashion retailer of bullying and Asos promptly issued a groveling apology. Asos is not the first retailer to come a cropper on social media. Retail Week looks of the do's and don'ts of communicating via Twitter and Facebook.
Do
create a personality for your brand but set clear guidelines
Social media is very conversational and brands can create a strong emotional connection with followers via the medium, therefore Ogilvy & Mather group head of social media Leo Ryan recommends cultivating a tone of voice for your account. However, a brand must have a well-developed persona with clear guidelines on how to converse. "Retailers have clear guidelines on how to speak to customers in store. The same applies on social media," he says.
Do
behave in a way that would make your Nan proud
Although, like Asos, your brand may appeal to a defined demographic, everyone can very easily see what your brand is posting. It's fine to inject fun into your brand's social media account but always behave in a way that your family would approve of, advises Ryan.
Do
put proper processes in place
Retailers should engage in scenario planning for social media, both in response to complaints but also in how to behave in a crisis. Ryan highlights HMV's Twitter fail last year when the retailer made staff, including its social media team, redundant which led to the manager of the HMV account live-tweeting details of the "mass execution".
"HMV management would have had a PR and marketing plan ahead of the redundancies but no-one thought about social media," says Ryan.
Don't
just put the youngest person in your team in charge of social media
Ryan says that is a trap that lots of marketing teams fall into as they think social media is for "young people". We Are Social account director Lisa Hardy agrees and says that it is risky allowing inexperienced members of staff to communicate directly with consumers in a public space. Ryan says social media should be run by a trained communicator who understands your brand.
Don't
run everything through your legal department
It may be tempting to put stricter controls over social media communication following fails such as Asos', however Ryan urges brands to resist. Twitter is supposed to be near-instant communication and people want personality from the brands they follow. "That would be the death of it," he says.