ScS posts full-year pre-tax profit of £10.9m, compared with £1.7m loss the prior year
Like-for-like order intake soared 14.8% during the period
Gross sales in ScS's House of Fraser concessions were up 19.7%
ScS has reported a return to profit as the retailer eyes further bricks-and-mortar expansion and sales at its House of Fraser concessions increase.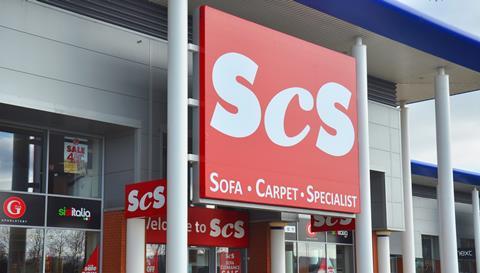 The furniture and upholstery retailer has reported a pre-tax profit of £10.9m in the 53 weeks to July 30, compared to a loss of £1.7m the prior year. Adjusted EBITDA rose 41.5% year-on-year to £16m.
During the period the retailer, which raised its profit expectations in January after strong Christmas trading, reported a 14.8% jump in like-for-like order intake while revenue rose 14.7% to £317.3m.
Chief executive David Knight said: "We are delighted to be reporting significant growth across all areas of the group for the 2016 financial year.
"These results demonstrate that the group has made significant progress in developing ScS into a strong national brand with three very clear retail offers – upholstered furniture, flooring and our House of Fraser concessions, all supported by an online platform that has seen continued investment."
The furniture retailer recorded a 19.8% increase in online sales to £10m and opened one new store in Bromborough, in the Wirral, during the period.
Concessions success and new stores
ScS's concessions across 28 House of Fraser stores reported a 19.7% rise in gross sales to £25.3m, making a positive contribution to the retailer's EBITDA.
In light of this, the retailer has recently hired a senior manager to drive sales across its concessions in the department store chain.
The retailer opened a new ScS store in Aberdeen last month and plans to open three more outlets in Plymouth, Thanet and Edinburgh on Boxing Day.
ScS's sales, which boss Knight has said were not affected by the Brexit vote, have also continued to rise, with like-for-likes up 4.5% for the 9 weeks to 1 October.
Knight said he was encouraged by the retailer's performance in its current financial year so far but stressed the retailer was up against very strong comparative sales.
"Looking further ahead, we are excited about our prospects, including the continued growth from our existing ScS network, the concession agreement with House of Fraser, our flooring offering and our online proposition," said Knight.
"We continue to identify new store opportunities within our target areas."