Homebase has been given the green light to shutter 42 of its stores after its CVA plan was approved by creditors.
At a crunch vote today, 95.9% of the DIY chain's creditors voted in favour of the rescue plan, which will see the shops close by early 2019.
It came days after new owner Hilco warned the retailer would plummet into administration if the proposals were not given the go ahead.
Homebase chief executive Damian McGloughlin said he was "pleased that an overwhelming majority" of creditors voted in favour of the CVA and insisted the decision provided the business with "a platform" to return to profitability.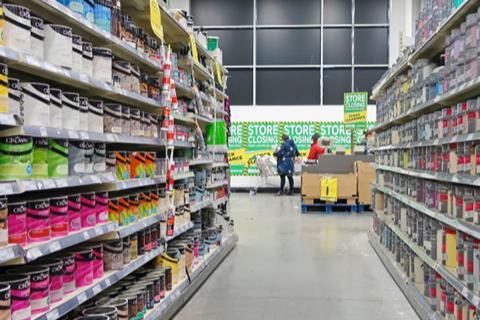 McGloughlin said: "We are pleased that an overwhelming majority of our creditors, including such a proportion of landlords, have supported the plans laid out in the CVA. We now have the platform to turn the business around and return to profitability.
"This has been a difficult time for many of our team members and I am very grateful for their continued support and hard work.
"We can look to the future with great confidence, and we will be working closely with our suppliers to capitalise on the opportunities we see in the home improvement market in the UK and Ireland."
Homebase unveiled its CVA proposal to shut 42 of its 249 stores – and slash rents at another 70 locations by as much as 90% – earlier this month, putting 1,500 roles at risk.
Hilco, which bought the business for a nominal £1 from Australian DIY chain Wesfarmers in May, had pledged to pump £25m of capital and up to £116m of debt into the business if the CVA was approved.
However, a consortium of landlords is reportedly mulling a legal challenge to the CVA – and property body Revo has thrown its weight behind that potential move, claiming it is "the only way we will get greater clarity around the use of CVAs, and establish a better, fairer, means of managing retail distress".
Revo chairman Mark Williams added: "The fact that Homebase is able to proceed with this CVA despite either opposition or a genuine feeling of uncomfortableness from the creditor group most impacted underlines that this legislation is completely broken.
"The current process forces property owners, many of which are pension funds investing our money for retirement, to pay for the mistakes of the business owners, and the Government's failure to reform the business rates system."
The use of the process has increasingly come under fire since House of Fraser launched a controversial CVA earlier this year. A group of landlords launched legal action against the department store chain, which was eventually settled out of court.
But, the British Property Federation said that, unlike House of Fraser, Homebase had "demonstrated best practice" in its approach to its CVA.
Are landlords getting a raw deal from CVAs?
1

2

Currently reading

Homebase to axe 42 stores as creditors approve CVA

3