Lush reported a leap in its full-year sales and profits as it looks for "other options for growth outside the UK" following Brexit.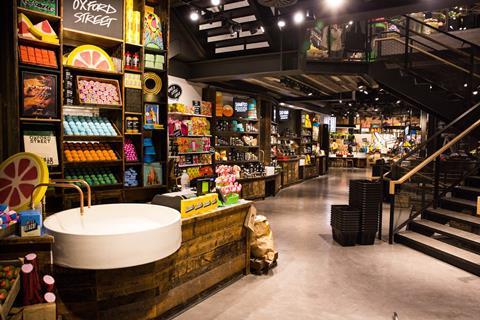 The beauty and wellbeing retailer recorded a 75% jump in pre-tax profit to £43.2m in the year to June 30, 2016 as sales rose 26% to £723.2m, while online sales rose 26% to £32.6m.
Like-for-like sales increased 19% during the period while it closed five net stores, taking its overall bricks-and-mortar estate to 928 stores. The retailer's strategy is to operate 1,000 stores overall.
The handmade cosmetics retailer, which operates in 26 countries including Japan, Australia and Germany, is also mulling its options for international expansion to mitigate the impact of Brexit on its employees.
A statement from the retailer said: "With Britain close to full employment and with a severe skills shortage we are concerned that restrictions on free movement of people will impact the availability of both the skilled and the unskilled, restricting future growth in both our UK manufacturing and buying facilities.
Lack of clarity
"Having opened our new Germany manufacturing facility during the year we will be reviewing other options for growth outside of the UK.
"With little clarity on the government's approach to the implementation of Brexit this remains a key uncertainty for the business going forward."
The retailer offered EU warehouse staff living in the UK the option to relocate to its factory in Germany last September – since then, 80 employees have relocated.
Lush said it is "well positioned" to deal with the weakened value of the sterling as a result of the Brexit vote across its international business due to the higher cost of raw material imports in the UK being offset by the cheaper cost of UK exports to its international stores.