This year's health and beauty trends:
Retailers have focused on personalisation and do-it-yourself products this Christmas but staples such as perfumes and pampering gift sets will remain on the best sellers list.
While many retailers including sector stalwarts Boots and Superdrug are holding out until later in the year to unveil their health & beauty sector bestseller predictions, some key trends are emerging.
The Christmas mainstays of perfumes and gift sets will still be found under many a tree this year, but some newer trends are continuing to develop.
Personalised touches, such as adding a name and personal message to a product such as a Body Shop moisturiser or Perfume Shop fragrance, will be prevalent across the sector.
But other trends that point to wider developments across the beauty sector can also be seen in retailers' festive cosmetic offers this year.
DIY beauty
Many a sector has benefited from the rise of do-it-yourself products in recent years, and the beauty market is no exception.
One of the top trends that online marketplace Notonthehighstreet flagged in its festive offering are items that shoppers can tweak to make something unique to them, be it through a glitter face pack or perfume blending or nail varnish mixing kit.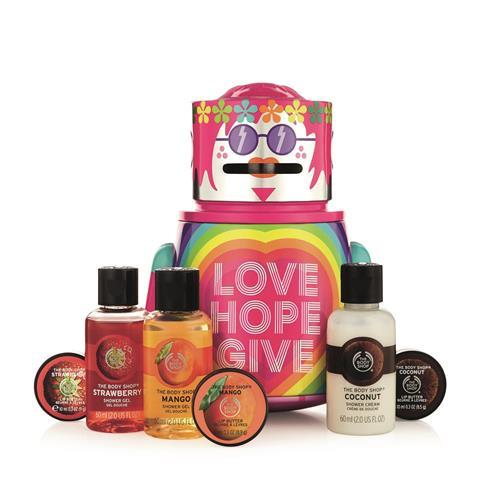 The Body Shop is also offering a product shoppers can repurpose in the form of a Christmas gift set-cum-moneybox, allowing younger shoppers to be pampered and save their pennies at the same time.
Advent calendars and wellness subscriptions
The proliferation of the traditional advent calendar has been a trend in the beauty sector for some time and this year is no exception, with retailers including The Body Shop selling goodie-packed calendars.
Health and wellness retailer Holland & Barrett is also selling an advent calendar for the first time this year with a keen ethical focus in the products included.
Items in the £35 calendar range from the retailer's notorious snail gel face cream, charcoal face wipes and plankton-infused facial oil.
The burgeoning subscription trend is also expected to build steam in the health sector this festive season as Notonthehighstreet highlights its Wellthos health and fitness subscription box as a key product this year.
Cult brands
Last year's beauty sector hero product was undoubtedly the contouring kit, as heralded by social media superstar Kim Kardashian, whom Superdrug credited in part for its jump in cosmetics sales in its full-year results last month.
A product with similar social media buzz has not yet emerged this year, but that hasn't stopped retailers from bolstering their brand offer to cash in on Christmas cosmetic trends as they develop.
Feelunique has made much of its recent partnership with Charlotte Tilbury, while department store retailer Debenhams is highlighting the millennial-focused beauty brands on offer, including Kat Von D and Urban Decay.
Whether shoppers want to doll up with the latest beauty trends this festive season or kick start their January detox, retailers are ensuring their offers run the gambit from health-conscious to luxury pampering.
Christmas in July: The festive forecast
1

2

3

Currently reading

Christmas in July: What will deck the beauty halls this year?

4

5

6

7

8