Like-for-likes at Halfords notched up 3.5% for the first quarter, helped by sales of premium bikes. Here is what the analysts say.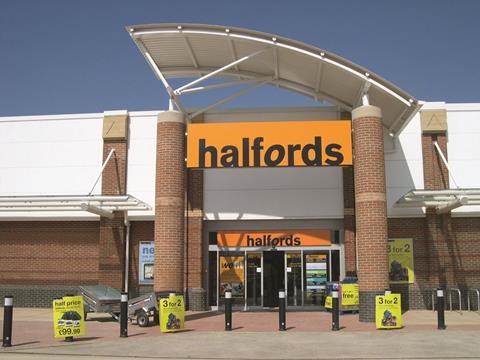 "The first-quarter trading update, covering the 13 weeks from 28 March to 3 July 2015, came in below our expectations but in line with the market.
"Halfords is still gaining share in the £1bn cycling market (21%) and is selling more premium bikes due to the trend of men and women taking up competitive road and endurance cycling.
"The cycling part of Halford's retail business, 36% of sales, now has more opportunity to grow through Cycle Republic (5 stores) and an opportunity to gain share within cycling clothes (Boardman), parts and accessories (PACs).
"Management guidance for the full year remains unchanged and in our view, the new chief executive, Jill McDonald, has several strategic options to consider (buybacks, buy more premium brands, expand sports clothing) at her review on the November interims, especially as the balance sheet is rapidly de-gearing and there is scope for improved trading margins." – Mike Dennis, Cantor
-
"Whilst an adjusted like-for-like growth of 4.2% is not to be sniffed at, it is below analysts' expectations.
"This was mostly to do with an uninspiring showing from the cycling division. There were good bits here – premium bike sales were up nicely and repairs saw good growth too, but parts and accessories and mainstream cycle sales were underwhelming.
"The PACs market is highly competitive and whilst volumes were up by 5%, overall like-for-likes were flat, reflecting the deflation in the market.
"Mainstream cycle sales were a touch down. Our view is that whilst this is a shade disappointing, this has been a period in which there have been few cycling industry catalysts and we expect the pace to pick up now that the comparative eases." – Jonathan Pritchard, Peel Hunt
-
"A consistent first quarter, with a balanced performance across retail categories, is reassuring as it shows widespread growth in our view.
"Ongoing business investments into staffing, service and training under the 'Getting into Gear' programme should help push the top-line performance as comparatives ease through the full year.
"We continue to see upside from a range of self-help initiatives and ongoing balance sheet deleverage gives new chief executive Jill McDonald plenty of options as the modernisation of Halfords continues." – Kate Calvert, Investec
-
"The first-quarter trading update today from Halfords (for the 13 weeks to 3 July) is relatively quiet, with cycling sales only up 2%.
"Like-for-likes were against a strong comp, but overall retail sales were up by 3.5%, boosted by travel solutions sales up 9.2% on a like-for-like basis, with the new chief executive Jill McDonald trumpeting that "a combination of compelling offers and knowledgeable colleagues boosted sales of roof boxes, cycle carriers, tents and child safety seats"." – Nick Bubb, independent analyst
-
"First-quarter sales are slightly disappointing in retail and autocentres although full-year 2016 estimates are not expected to change significantly today.
The market may view a 2% like-for-like rise in cycling sales as a disappointment in the light of weaker sales comparisons versus the fourth-quarter last financial year,
With a long reporting gap until November, the shares may consolidate here in the short term." – Anjli Shah, Stifel