The proposed tie-up between Tesco and Carrefour and its impact on their respective consumers and suppliers will be scrutinised by the French anti-trust authority.
The French competition watchdog has launched a wider probe into the effect of grocery mergers.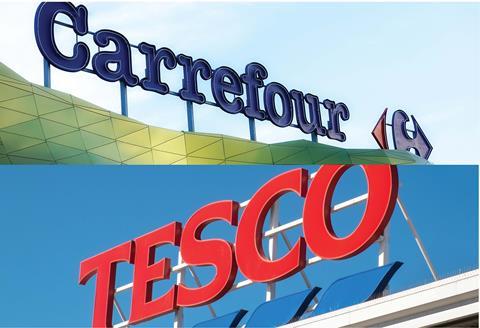 Tesco and Carrefour's partnership will be in the spotlight alongside a purchasing alliance between Auchan, Casino, Metro and Schiever and another of Carrefour's tie-ups with Systeme U.
The French anti-trust authority has said it will look at whether the Tesco-Carrefour deal infringes competition rules, which could result in the two grocery giants being asked to change the terms of their agreement.
The deal, which was forged to drive cost efficiencies across the two businesses' respective buying functions, comes at a time of increased consolidation in the grocery sector.
Tesco's merger with Booker was approved by the Competition and Markets Authority earlier this year, with the UK competition watchdog currently investigating the proposed alliance between Asda and Sainsbury's.
The French and UK grocery chains unveiled their tie-up ambitions earlier this month.
A Tesco spokesman said: "We will co-operate fully with the French competition authority investigation."