Tesco has today launched a pilot at its new Extra store in Lincoln which allows three shoppers to pack and pay at the same time.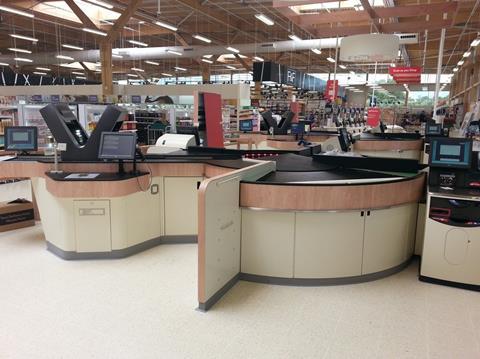 The pilot, which uses technology from NCR, automatically scans products placed on a conveyor belt. The four units at the Lincoln store are the first in the UK.
The innovative checkout system is designed to reduce queuing, and increase the rate at which items are scanned, packed and paid. Each unit is staffed by up to three Tesco employees.
Instead of scanning each item, the idea is for Tesco staff to be freed up to help customers unload their trolleys onto the conveyor.
Nigel Fletcher, director at Tesco UK said: "We are always looking for innovative ways to support our colleagues to give great service and to improve the shopping experience for our customers. We're looking forward to seeing what our customers in Lincoln think of the new checkouts over the coming weeks and months."
The checkout system also uses imaging technology from Datalogic that automatically finds the barcode on any side of the product without the need to orient the item on the conveyor belt. It is capable of scanning up to 60 items per minute.
"Great customer service is one of the cornerstones of today's highly competitive U.K. retail industry and supermarkets, such as Tesco, must differentiate themselves to attract and retain shoppers," said Ronen Levkovich, EMEA vice president, NCR Retail.