Tesco has laid down the gauntlet to technology giant Amazon after delivering a grocery order within an hour using a robot.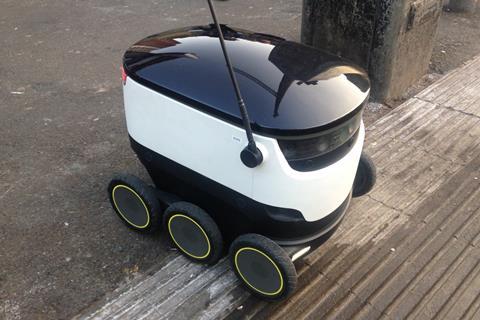 The supermarket giant delivered a basket of goods using a six-wheeled machine as part of its wider Tesco Now one-hour delivery trial.
Now Britain's biggest retailer is mulling a wider roll-out of robot deliveries following the successful pilot in London.
Tesco has linked up with hi-tech firm Starship Technologies to deliver the service, according to The Grocer.
Three-mile delivery radius
The robots are able to carry items within a three-mile radius, taking goods to customers' homes either from stores or special delivery hubs.
The machines are fitted with anti-theft protocols so that, if someone attempts to tamper with or steal the robot, a human operator can take control, talking to the culprit and sending police to its location.
Customers can also monitor the progress of the robots via smartphone.
A Tesco spokesman said: "We are always looking at new ways to improve the shopping experience for our customers.
"We carried out a one-off trial as part of our Tesco Now initiative in partnership with a technology company.
"We learnt a great deal from this trial and we'll be reviewing feedback before deciding our next steps."
The supermarket giant began testing the Tesco Now app in central London in April, promising delivery within an hour on orders of 20 products or less.
It is currently listening to feedback from that broader trial.
Need for speed
Tesco's move came after Sainsbury's launched its Chop Chop app in central London, which delivers baskets of up to 20 products within 60 minutes, via bicycle.
Sainsbury's boss Mike Coupe has insisted that time is increasingly becoming a "currency" for shoppers as they demand shorter and shorter delivery times.
Tesco's robot trial could pose a threat not just to its grocery rival, but also to tech titan Amazon.
The online behemoth has ploughed investment into faster delivery options for customers to enhance its fulfilment credentials.
It launched a one-hour grocery delivery service in London two years ago and has rolled out its Amazon Prime same-day delivery proposition to other key cities including Manchester, Birmingham, Liverpool and Newcastle.
Last year, Amazon Air made its first drone delivery in Cambridgeshire, which it claimed took just 13 minutes.
The US firm plans to roll out a regular drone delivery service in the future.